The Wounding
For we do not have a high priest who is unable to empathize with our weaknesses, but we have one who has been tempted in every way, just as we are—yet he did not sin. Let us then approach God's throne of grace with confidence, so that we may receive mercy and find grace to help us in our time of need."
– Hebrews 4:15-16, New International Version
The one on the bottom of my right foot is evidence of childhood rebellion. Another next to my eyebrow reminds me that brick walls are unforgiving. A couple permanently graces my abdomen testament to necessary medical intervention. In the beginning, each scar was an open wound, tender to the touch and, left untreated, vulnerable to a host of nasty germs.
Wounds are not scars. Wounds are precursors to scars.
They occur, healing takes place and what's left is a scar – a leathery tissue that replaces what was once normal skin.
I hid the pain because I was tired, afraid, defeated and confused.
I have scars on my soul, too, evidence of wounds that once raged with pain – loss, abuse, betrayal, rejection, abandonment, judgment, misunderstanding. Some healed nicely; others, compromised with the microbes of fear, fury, pride and bitter regret, had a complicated healing. Those took longer to mend. The wounds you can't see are hardest to heal.
Several years ago I experienced a number of difficult life events in a relatively short time that pummeled my soul.
I scarcely had time to catch my breath between the blows. I sought counsel that proved to be hollow. With neither the will nor the energy to seek out healthy support I made a decision that delayed my healing and worsened the hurt in my heart – I hid the pain.
I hid the pain because I was tired, afraid, defeated and confused. I hid the pain because I didn't want anyone to know the throbbing in my soul. I took each hurt, wrapped it in pretty paper, stuck a colorful bow on top, and hid it on a shelf in the closet of my heart. If anyone looked inside, they would see only happy.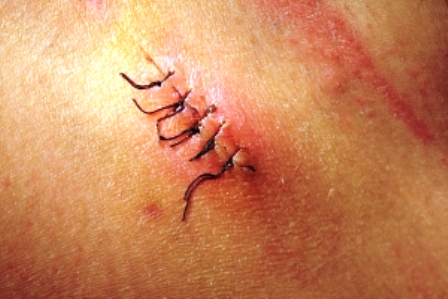 Hiding the hurt did not negate the effect of its existence. Instead, it lessened my capacity for life and love. Depression became my constant companion, withdrawal my preferred mode of operation. I felt inadequate – "not good enough" became the mantra of my life. I felt like I was always climbing but never reaching – unable to please myself, others or God.
One day I opened the door to place another package on the closet shelf and everything came tumbling out.
Sinking to the floor, I laid my head on my knees and cried. It was time. As I saw it, I had two options: take my life OR begin, with God's help, to unwrap each package and deal with the contents inside.
And you? What have you done with the great pain of your life? It's time to face the hurt, to work it through and to make peace. The truth will set you free. God can use your scars.
"God, the closet of my heart is filled with packages of pain I've tried to hide from. I don't know what to do so I fix my eyes on You. Please help me."
Next Lesson