Have you ever thought about how good and generous God is to us? He gives us life, provides our daily living, forgives our sins, heals our bodies, protects us from the devil, gives us faith and hope for an eternity with Him in heaven. And we still keep coming to Him, asking for more. He is not upset when we do. Actually, He invites us: "Ask of Me…" (Psa.2:8).
Did it ever occur to you, that perhaps He expects something from us? No, it's not money, nor some sort of ritualistic "payback" performance or sacrifice. As this question crossed my mind, the Holy Spirit brought me the following, and I pass it on to you for consideration.
God does indeed expect from us:
1. Thanks.
Parents are truly pleased when their children have learned to say, "Thank you daddy – mommy." The Psalmist declared, "Enter into His gates with thanksagiving and into His courts with praise: be thankful unto Him, and bless His name" (Ps.100:3). Jesus expressed His disappointment, that out of ten lepers healed, only one returned to give thanks. "Where are the nine?" (LK.17:17).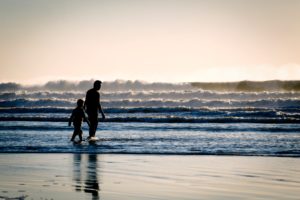 Paul taught, "Give thanks always for all things unto God" (Eph.5:20).
How does one do this? Worship does not necessarily call for ceremonial ritualistic bowing or prostration of oneself. Jesus said, "True worshippers shall worship the Father in spirit and in truth" (John 4:23). This calls for reverential adoration, appreciation, and honoring God from deep within our inner being. This must be done with humility, submission, and full awareness that He is God. He is the Greatest and deserves this kind of devotion.
3. Holiness.
God desires His children to reflect the family image. "Be ye holy for I am holy" (Lev.20:7). John says, "Yes, dear friends, we are already God's children…when He comes we will be like Him…and all who believe this will keep themselves pure, just as Christ is pure" (1 Jn. 3:1-3 NLT). "For this is the will of God, even your sanctification" (1 Thes. 4:3). To be holy is to be pure, to be clean, untainted, separated from sin unto God. A daily tryst with the Lord, feeding on His Word, and keeping oneself continually open to the infilling of the Holy Spirit will lead to greater holiness.
4. Obedience.
Nothing pleases a parent more than an obedient child. The prophet Samuel said, "To obey is better than sacrifice" (1 Sam. 15:22). Peter affirmed, "We ought to obey God rather than men" (Acts 5:29). "Blessed are they that do His commandments" (Rev.22:14).
Among those with whom God was pleased because of their obedience: was Noah, who "did…all that God commanded him" (Gen.6:22); Paul, "I was not disobedient to the heavenly vision" (Acts 26:19); All the blessed, "that do His commandments, that they may have the right to the tree of life" (Rev.22:14). It is incumbent on us that we, "Be…doers of the word and not hearers only" (James1:22).
5. Love.
To love God is to direct all our emotions and desires toward Him. This calls for expressions of adoration, appreciation, willingness to sacrifice, and to do anything that would bring Him happiness. Merely to state our love verbally, but not support it with deeds is hypocritical. "Thou shalt love the Lord thy God with all thy heart, and with all thy soul, and with all thy mind, and with all thy strength" (Mk. 12:30). "We love Him, because He first loved us (1 Jn. 4:19). Read Romans 8:35.
6. Faithfulness.
Jesus said. "No man can serve two masters…ye cannot serve God and mammon" (Mt. 6:24). "If any man serve Me, let him follow Me…him will My Father honor" (Jn. 12:26). To be a follower of the Lord requires loyalty, "for ye serve the Lord Christ" (Col.3:24). Paul said, "It is required in stewards that a man be found faithful" (1 Cor.4:2). Loyalty does not flinch in the face of humiliation, persecution or death (Rev.12:11). Read Rom. 8:35. "Be thou faithful unto death, and I will give thee a crown of life" (Rev. 2:10).
7. Fellowship.
This is why God created man in the first place. He brought children into being, so He could enjoy fellowship with them. (Read Hebrews 12:2). His children are in His "image and likeness" (Gen. 1:26), and are not like any other creature. "Truly our fellowship is with the Father, and with His Son Jesus Christ" (1 Jn. 1:3).
At the Last Supper: Jesus expressed His intense desire for this fellowship: "With desire have I desired to eat this passover with you" (Lk. 22:15). At Gethsemane: "Could you not watch with Me one hour?" (Mk. 14:37). To His many hearers "Come unto Me" (Mt. 11:28). To all today He calls "I stand at the door, and knock: if any man…open the door, I will come in to him, and will sup with him, and he with Me" (Rev.3:20).
Our Heavenly Father is faithful, generous and loving.
He deserves to receive joy and satisfaction from His children, and to feel as proud of them, as He did of Job "Have you considered My servant Job? He is the finest man in all the earth, a man of complete integrity. He fears God and will have nothing to do with evil" (Job 1:8 NLT).. How pleased is God with us? Have we brought joy to His heart? The Scriptures advise "Let a man examine himself" (1 Cor. 11:28) "Examine yourselves, whether ye be in the faith; prove your own selves" (2 Cor. 13:5).
The Bible tells us, "The joy of the Lord is your strength" (Neh.8:10). If fulfilling His desires brings Him joy—and this "joy" simultaneously becomes our "strength," then we must make sure our responsibilities to our Heavenly Father are fulfilled.
Read again, and consider the seven areas of obligation given above. Have we neglected any? Share this truth with your people.