A REVELATION
A few days ago, I boarded a plane departing from Pittsburgh and sat down in seat 7A, a window seat. It was snowing, cloudy and dark in the middle of the day. As the plane took off and rose into the air, it broke through dark clouds and a blinding snow storm. Above was one of the brightest and most beautiful sights I have ever seen. An endless field of clouds with a flawless glow of sunlight poured through a tiny plane window and onto my awestruck face. I was overwhelmed with the warm presence of God and He began to speak to my heart.
If you're anything like me, at some point during your spiritual journey, you may have considered this question, "How do I hear from God?". God speaks to us in so many different ways. He speaks through a still small voice, through his Word, audibly, and through other people just to name a few. As we fall more in love with God, a hunger to know Him and His voice grows within us. I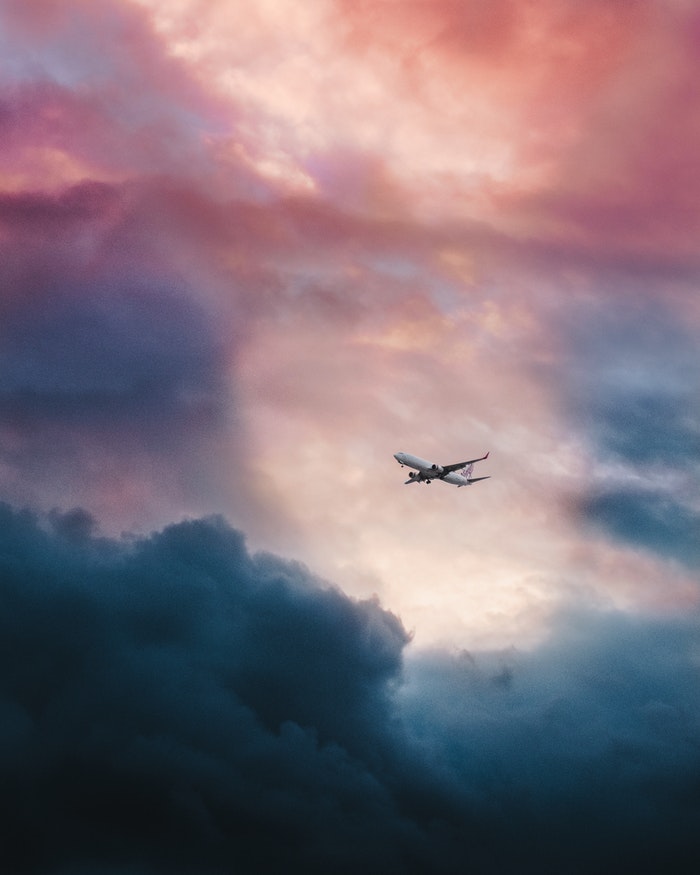 remember the first time I heard the voice of God. This spiritual breakthrough didn't occur during a time of victory or success. It took place during a time of emptiness, separation, fasting, trial and desperation. I had responded to an altar call and was on my knees crying out to God. The worship was roaring and there were people all around me praying out loud. Above all the noise, from somewhere deep within me, the clearest and gentlest Voice spoke three simple, life – changing words "You Are Free".
My life was never the same and this voice that I knew was God sounded familiar, safe and true. I fell in love and I wanted to hear from and know Him more and more.
As the plane broke through the clouds that day, I was reminded of how fasting and prayer opened me up to the voice of God in the past and I wanted to share this experience; this invitation. For me, fasting began as an act of obedience, a duty, even an obligation but it turned into something similar to that plane ride – a revelatory time in God's presence when I can hear Him clearly and better discern His will and ways. A time when He lifts me above the clouds and the storms of life and shows me a different perspective – His perspective. Fasting opens our spiritual ears and eyes to God. It removes all the distractions. It gives us an opportunity to know God in a deeper and more intimate way; a way that created, in my life, a deep friendship and a reverent Lordship. When we put our flesh in submission to our spirits, give up food and other distractions and fix our eyes on Jesus in worship, fasting and prayer, something powerful takes place.
AN INSPIRATION
I am reminded of the prophetess Anna from Luke 2. She chose to worship the Lord day and night, through fasting and prayer. Luke 2:36-39 shares that after just seven years of marriage, Anna was widowed and lived as a widow until the age of 84. She never left the temple but stayed day and night, worshiping, praying and fasting. She even met Jesus as a baby and saw the fulfillment of the long-awaited promise. God would rescue Jerusalem. The Savior had been born! I love her response to this encounter. Her first response after meeting Jesus face-to-face was praise. Anna praised God! (Luke 2:38) She gave glory to the God she knew, trusted and worshipped. Her second response was to tell everyone. "She talked about the child to everyone who had been waiting expectantly for God to rescue Jerusalem." (Luke 2:38) She told those in search of rescuing that there was a Solution – a Rescuer- a Savior.
THREE LESSONS FROM ANNA:
1. Worship through prayer and fasting.
2. Praise God in response to the gift of our Savior.
3. Share the Gospel, the Truth, and the story of our Rescuer.
AN INVITATION
Anna's purpose was God-inspired, God-given, and God-ordained. The commitment, devotion and love she had challenges me. I can only imagine the depth of knowledge and friendship she must have had with God. She knew Him in a very deep way. Fasting has become a powerful and treasured part of my life. It has become a sacred time to spend with the lover of my soul. A time, like Anna, to worship, to sacrifice, to praise, and to share the story of my Rescuer, the God that spoke three life-changing words to me years ago. God's desire to spend time with us, to speak to us, and to take us deeper is an open invitation. I'm encouraged to say "Yes!", to seek, to listen, and to rise above the circumstances and distractions of life with a passion to see and hear God's perspective. To hear His voice. To know Him more. He invites you too.
"Even now," declares the Lord, "return to me with all your heart, with fasting and weeping and mourning."- Joel 2:12
CityReach Church Pittsburgh- Brian Bolt Natalie Bolt serves at CityReach Church Pittsburgh and casts vision with her husband, Pastor Brian Bolt, for CITYREACH NETWORK. She has a heart to unite woman and pastors' wives across all the CityReach churches.