Elijah bravely stood alone and unarmed on the mountaintop, face-to-face with 850 of his enemies.
As they danced around their pagan altar and shouted to their god to send fire from heaven, he taunted them, "Shout louder! Maybe he's sleeping!"
As the hours passed, the prophets of Baal frantically slashed themselves with their swords and spears. But still, their god did not answer them.
Now it was Elijah's turn to call on his God. Elijah prepared the Lord's altar, which the people of Israel had abandoned. He placed the wood and a bull on the altar, and then had water poured over the sacrifice and the altar, filling the trench around the altar.
As the people watched, Elijah stepped forward to pray. In contrast to the desperate actions of the false prophets, Elijah merely asked God to send fire from heaven so that the people would recognize God and return to Him.
Fire from Heaven
God immediately answered by sending fire, which not only burned the sacrifice, but also the wood, stone, and soil, and even licked up the water in the trench!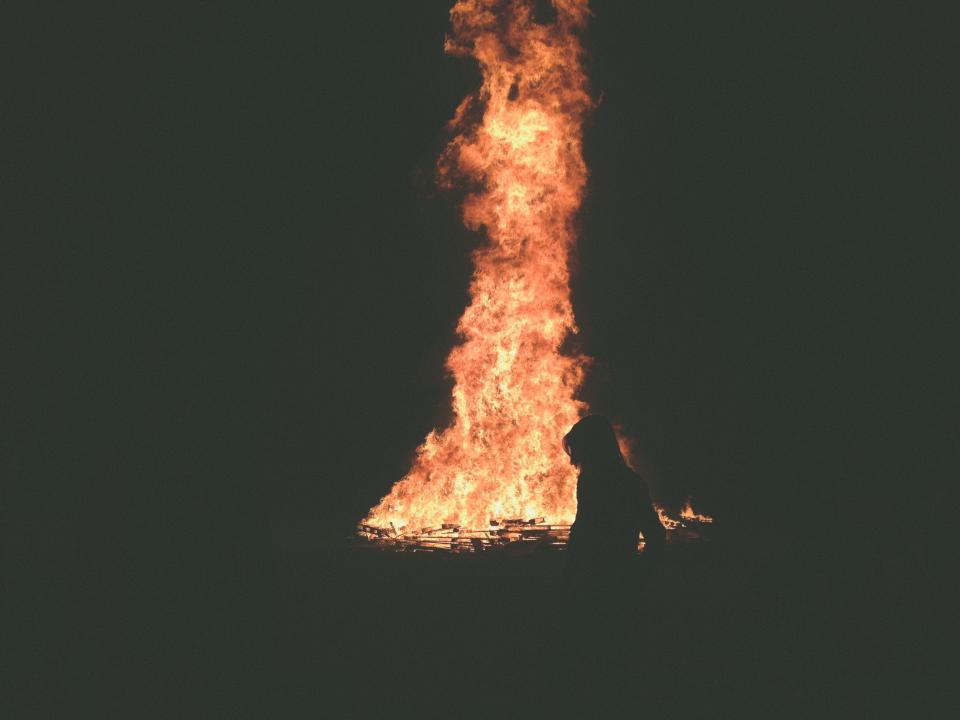 Then, Elijah commanded that the false prophets be killed.
How do we reconcile this powerful picture of Elijah in 1 Kings 18 with the way he is depicted in chapter 19?
When threatened by Jezebel, Elijah ran for his life. How could he have faced 850 armed idol-worshipers so bravely, and then run when Jezebel threatened him? In verse 4, he tells God, "'I have had enough, Lord. . . . Take my life; I am no better than my ancestors.'"
Preaching fearlessly, Elijah had urged the people to return to God. Perhaps he expected the whole nation to respond and abandon their idolatrous ways. Instead, terribly disappointed, he told God, "'The Israelites have rejected your covenant, broken down your altars, and put your prophets to death with the sword. I am the only one left, and now they are trying to kill me too'" (v. 10).
Have you ever felt that way after sharing the gospel with your friends and neighbors? You did your best to live your Christian faith, to demonstrate Christ's love for them, and to take advantage of every opportunity to tell them of God's forgiveness. Yet, despite all your efforts and prayers, they still have not accepted Christ.
Disappointment
Perhaps you have been tempted to think, What's the use? Maybe I'm just not a good enough witness. God brought me into contact with these people, but I must have failed Him.
When Elijah had his audience with God, he witnessed God's power and heard His gentle whisper. How did God respond to Elijah's discouragement? He gave him new orders. "Anoint Hazael as king over Aram, anoint Jehu as king over Israel, and anoint Elisha to succeed you as prophet."
Did that mean that, after carrying out God's orders, Elijah's work would be completed? No, not at all, for he would be teaching and training Elisha.
Despite Elijah's loss of confidence in himself as a prophet, God gave him more work to do! But, before Elijah left God's presence, God added, "'Seven thousand in Israel . . . have not bowed down to Baal'" (v. 18).
Elijah's efforts had not been in vain, and neither have yours. You do not know when the seeds you have planted will finally take root. Perhaps God will send someone else to water them and nurture them. Just because you may not see it, does not mean you have failed. Continue sharing God's love and working for your Savior. Let Him worry about the results.