Gods Will In My Community
Galatians 5:22-23 NIV
But the fruit of the Spirit is love, joy, peace, forbearance, kindness, goodness, faithfulness,  gentleness and self-control. Against such things there is no law.
"Come your kingdom, be done your will in my family."
If you are single and want to be married, pray for God to prepare you to be a good husband or wife and to bring to you the person He has chosen for you to share your life with. For those who are married, pray for God's kingdom of righteousness, peace, and joy to be manifest in the life of your spouse.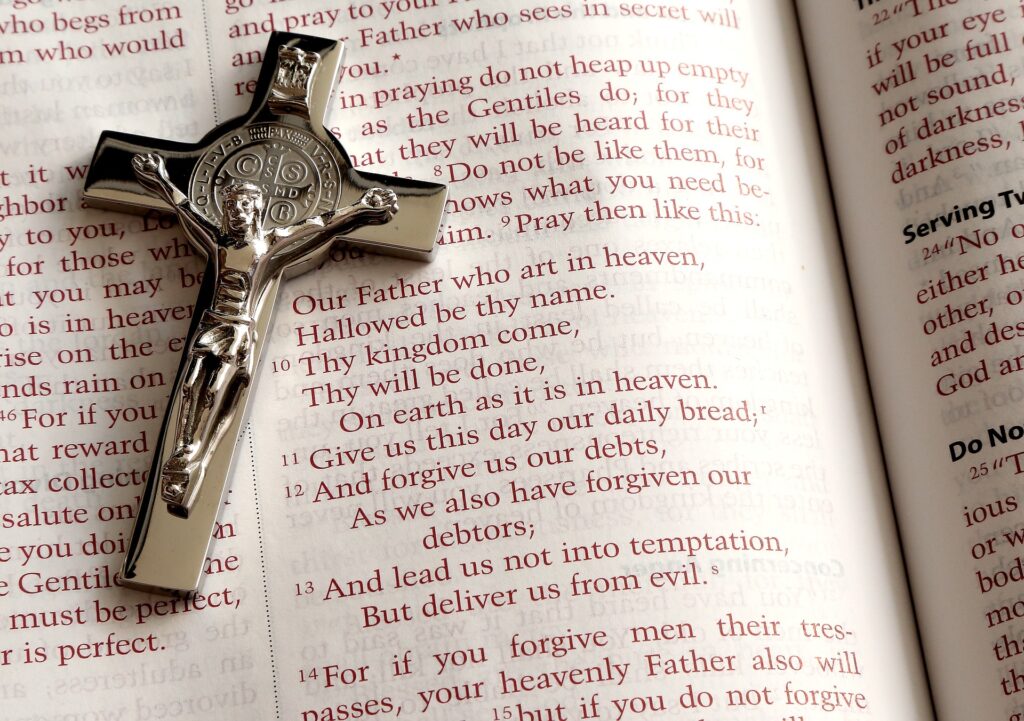 If you have children, pray for the will of God to be done in them. Pray for direction of their life's work, for their mate, protection from evil, and wisdom to know the way they should go. Pray for them to know God as their Savior and King. Commit to train your children in the ways of God.
Proverbs 22:6 NIV
6 Start children off on the way they should go,
    and even when they are old they will not turn from it.
Ask the Holy Spirit to show you specific needs of other family members for which you are to pray. Do not be in a hurry. Follow the leading of the Holy Spirit.
"Come your Kingdom, be done you will in my church."
Persecution and demonic attacks against Christians have intensified and become more prevalent as the years have progressed. It becomes more and more important to pray for God's protection and blessings to be manifest in the lives of our church leaders and, also, the members.
The second greatest commandment is to "love one another."  When we pray for our friends, we show great love for them. We should pray for the people of the church, the pastor, his family, leaders, their families, and for the purpose of the church to be manifest in our area. Pray for those who need to come to a saving knowledge of Jesus to be drawn by the Holy Spirit to Him. Pray for God's kingdom to increase in your area.
Galatians 6:2 NIV
2 Carry each other's burdens, and in this way you will fulfill the law of Christ.
Galatians 6:10 NIV
10 Therefore, as we have opportunity, let us do good to all people, especially to those who belong to the family of believers.
"Come your Kingdom, be done your will in my nation."
Our pray should be for more and more people to become citizens of God's kingdom, so the culture and government will be changed.  Righteous leaders bring about change in cities and nations.
1 Timothy 2:1-2 NIV
A Call to Prayer
2 I urge, then, first of all, that petitions, prayers, intercession and thanksgiving be made for all people— 2 for kings and all those in authority, that we may live peaceful and quiet lives in all godliness and holiness.
As the anti-Christ spirit manifests itself in rebellion against every commandment of God, it is increasingly vital for Christians to be aware of this verse and to make intercession for the nation's leaders at every level. Mayors of cities and towns, college and university leaders, local school superintendents, principals, teachers, and school boards are to be prayed for that our nation will reflect the principles of God. Pray for God to change the hearts of all those in authority in education, the family, arts and entertainment, media, government, religion, and business.
Pray for protection for leaders and their families, for them to have divine wisdom, for them to be people of prayer and commitment to God's laws and purpose for the nation.
Pray for God's divine purpose for your nation to be fully manifest. Declare every assignment of the devil against your nation is stopped by the blood of Jesus.
The Lord may give you a desire to pray for other nations besides your own. In addition, we are commanded to pray for the peace of Jerusalem.
Psalm 122:6 NIV
6 Pray for the peace of Jerusalem:
    "May those who love you be secure.
The last assignment Jesus gave His disciples concerned the nations of the world. These scriptures are called The Great Commission. He expressed His desire for the people of the whole world to come into His kingdom.  He stated that He had been given all power, and then commissioned the disciples to go and teach all nations. In the book of Mark, His directions reflect His expectation that the disciples would do the things He had done.
Matthew 28:18-20 NIV
18 Then Jesus came to them and said, "All authority in heaven and on earth has been given to me. 19 Therefore go and make disciples of all nations, baptizing them in the name of the Father and of the Son and of the Holy Spirit, 20 and teaching them to obey everything I have commanded you. And surely I am with you always, to the very end of the age."
Mark 16:15-18 NIV
15 He said to them, "Go into all the world and preach the gospel to all creation. 16 Whoever believes and is baptized will be saved, but whoever does not believe will be condemned. 17 And these signs will accompany those who believe: In my name they will drive out demons; they will speak in new tongues; 18 they will pick up snakes with their hands; and when they drink deadly poison, it will not hurt them at all; they will place their hands on sick people, and they will get well."
We can be assured that these same assignments are for us in this time of history. Therefore, in our prayers we ask for Him to use us according to His plan to fulfill these last directions that were given to the disciples.
Making prayer a priority of your life is a step of maturity and submission to the will of God. It is the way our relationship with Jesus grows and we become fruitful in His Kingdom.