Gods Will In Me
Those who understand the original language in which the Bible was written, tell us that a more accurate translation of this phrase of the Prayer is the following:
"Come, kingdom of God! Be done, will of God!"
It is more of a command than a request. To pray with this understanding means we are submitting our will to His will. God's will is what rules heaven. There is no lack, no disease, no sickness, and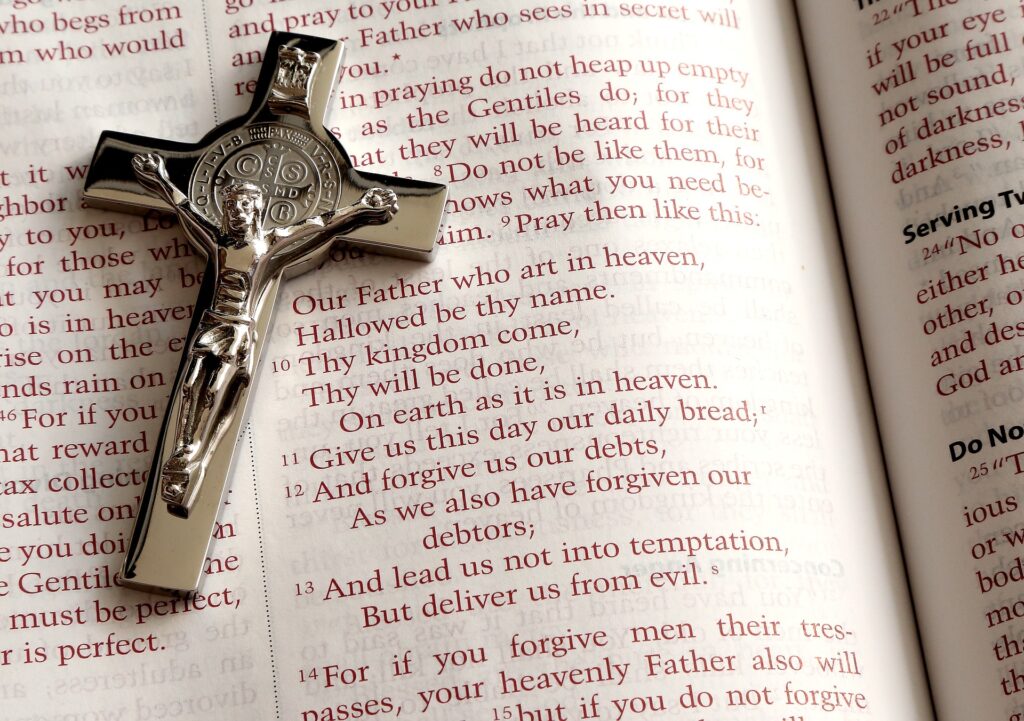 no threat of any kind in heaven. The presence of God fills the atmosphere of heaven. The environment of the Garden of Eden which God created for man is the closest thing on earth to the heavenly model.
Adam and Eve were given dominion over the Garden, and God's presence was with them. However, their choice to obey Satan rather than God caused the earth realm to be turned over to Satan. Man was ruled by sin and was separated from God.
Psalm 115:16 NIV
16 The highest heavens belong to the Lord,
    but the earth he has given to mankind.
Jesus came to pay the price for man's sin and to bring the kingdom of heaven to the earth and to give man dominion over sin. His third temptation from Satan was that the kingdoms of the world would be his if he, (Jesus), would bow down and worship Satan. If these kingdoms had not been Satan's to give, he could not have made that offer.
Matthew 4:8-10 NIV
8 Again, the devil took him to a very high mountain and showed him all the kingdoms of the world and their splendor. 9 "All this I will give you," he said, "if you will bow down and worship me."
10 Jesus said to him, "Away from me, Satan! For it is written: 'Worship the Lord your God, and serve him only.'[a]"
After this encounter with Satan, Jesus began preaching the message of repentance and announcing the entrance of the kingdom of heaven.
 Matthew 4:17 NIV
17 From that time on Jesus began to preach, "Repent, for the kingdom of heaven has come near."
He began calling men to be his disciples, telling people about the kingdom of heaven, and demonstrating that kingdom by healing people of diseases and sicknesses. He was establishing heaven's condition of good health in the lives of the people he healed.
Matthew 4:23 NIV
23 Jesus went throughout Galilee, teaching in their synagogues, proclaiming the good news of the kingdom, and healing every disease and sickness among the people.
The Jewish people had waited hundreds of years for their Messiah to come. They expected Him to free them from the oppressive rule of Rome and establish His rule over the land. These expectations were not out of line with the realities of earthly kings and kingdoms. The kingdom Jesus came to establish did not meet their expectations. Although it was a government, His kingdom was a government of the hearts of men.
Luke 17:20-21 NIV
The Coming of the Kingdom of God
20 Once, on being asked by the Pharisees when the kingdom of God would come, Jesus replied, "The coming of the kingdom of God is not something that can be observed, 21 nor will people say, 'Here it is,' or 'There it is,' because the kingdom of God is in your midst."[a]
The first and greatest commandment of His kingdom is to love God, then love others as you love yourself. Sounds like heaven on earth, a world full of love.
Matthew 22:36-40 NIV
36 "Teacher, which is the greatest commandment in the Law?"
37 Jesus replied: "'Love the Lord your God with all your heart and with all your soul and with all your mind.'[a] 38 This is the first and greatest commandment. 39 And the second is like it: 'Love your neighbor as yourself.'[b] 40 All the Law and the Prophets hang on these two commandments."
In contrast to the description of Jesus' heaven on earth kingdom, an earthly king rules with complete control over a geographical territory. He makes the laws, establishes the culture, and citizens are to be subject to him and his laws. There are countries that are ruled by kings, some benevolent and some dictatorial. In countries that are democracies or republics, the people have a very independent mindset and are accustomed to being able to elect officials and replace those with whom they do not agree through elections. This is not the way a kingdom operates. The king is not subject to elections or petitions for his removal. His word becomes the law of the land.
In the case of the kingdom of God, called the kingdom of heaven in some passages of scripture, God's Word, the Bible, is the constitution of His kingdom. Jesus is our King and we operate under His direction.  The principles and laws of His kingdom are to be believed and followed by us, the citizens of His kingdom. They are not subject to opinions or a vote of the people.
In the book of Revelation, the apostle John describes Jesus and how he will appear in the last days.
Revelation 17:14 NIV
Victory for the Lamb
14 They will wage war against the Lamb, but the Lamb will triumph over them because he is Lord of lords and King of kings—and with him will be his called, chosen and faithful followers."
So, as we pray "Come your kingdom, be done your will on earth as it is in heaven," we are calling for God's perfect will to be done according to His kingdom principles and laws here on earth just as if we were in heaven. For us to know what God's will is, we must read the Bible. To know what pleases him, and how to manage life's circumstances according to His ways, we must read the Bible. It is our citizenship manual for life here on earth.
The teachings of Jesus about the realities of the kingdom of heaven represent ideas and ways of doing things that are for the most part diametrically opposite of the natural man's ways of thinking and acting. Our minds need to be renewed, changed, to agree with God's thoughts and ways of living.
Romans 12:2 NIV
2 Do not conform to the pattern of this world, but be transformed by the renewing of your mind. Then you will be able to test and approve what God's will is—his good, pleasing and perfect will.
Our prayers can be about a multitude of life circumstances. There are four areas that can be of primary concern. We can pray God's will be done in our own life, in the lives of our family members, in our church, and in our nation. Additionally, we may have a concern for a specific people group or nation such as Israel.
"Come your kingdom, be done your will in my life."
There are many scriptures that tell us what God wants us to become in our lifelong journey as His kingdom citizen. When we pray those scriptures, we know we are praying according to His will because His Word is His will.
Having a deep understanding and belief in the effectiveness of the blood of Jesus to make you righteous before God is vital for you to see yourself as God sees you.
2 Corinthians 5:21 NIV
21 God made him who had no sin to be sin[a] for us, so that in him we might become the righteousness of God.
By the blood of Jesus, you have been made righteous. When you repented of your sins, were baptized, and confessed Jesus as your Lord, you entered His Kingdom. This kingdom is characterized by righteousness, peace, and joy. By faith declare this truth over yourself. As you believe spiritual Kingdom truths about yourself you will be changed. Additionally, you will respond differently to those around you and your world will be changed.
Romans 14:17 NIV
17 For the kingdom of God is not a matter of eating and drinking, but of righteousness, peace and joy in the Holy Spirit,
Romans 8:29 NIV
29 For those God foreknew he also predestined to be conformed to the image of his Son, that he might be the firstborn among many brothers and sisters.
The apostle Paul wrote in his letter to Timothy, his spiritual son, about the things God had done for him. This scripture contains multiple truths about the life of the believer. It is particularly encouraging to realize that God has a purpose for my life, and He gives me grace through Jesus to fulfill that purpose. Many times, I have been faced with tasks for which I was not prepared. Knowing I am never alone and that His grace is sufficient for me to fulfill my purpose, I can confidently proceed to do what is difficult or what seems impossible.
2 Timothy 1:9-10 NIV
9 He has saved us and called us to a holy life—not because of anything we have done but because of his own purpose and grace. This grace was given us in Christ Jesus before the beginning of time, 10 but it has now been revealed through the appearing of our Savior, Christ Jesus, who has destroyed death and has brought life and immortality to light through the gospel.
Suggested Prayer: Pray for God's will to be done today in your life. You need divine wisdom, revelation, and empowerment of the Holy spirit to function successfully every day. Ask for Jesus to fill you with all you need to live out His plans for you today. Set your priorities to do His will. Pray over specific concerns of the day and thank Him for being with you, helping you, strengthening you, and giving you favor, grace, and victory. Pray He will perfect you into the image of Jesus according to Romans 8:29.
Thank God that the Holy Spirit lives within you. Ask for the fruits of the Holy Spirit to be manifest in your life as you go about your day.