Thine is the Kingdom, Part 2
For Thine is the Kingdom
After Jesus had gone through the temptations in the wilderness, he began to teach the people about the Kingdom of heaven. The Kingdom is one in which the citizens have submitted their lives to the King. It is a Kingdom of righteous living, being in right standing with God, joy, and peace. It is a Kingdom in which citizens enjoy the fellowship of Jesus living in them by the indwelling Holy Spirit that is promised to all believers who have repented and are baptized. It is a Kingdom of provision and victory. Citizens walk in the light of the knowledge and grace of God and are delivered from Satan's kingdom of darkness, guilt, and shame.
Matthew 4:17 NIV
17 From that time on Jesus began to preach, "Repent, for the kingdom of heaven has come near."
Romans 14:17 NIV
17 From that time on Jesus began to preach, "Repent, for the kingdom of heaven has come near."
Colossians 1:13-14 NIV
The Incomparable Christ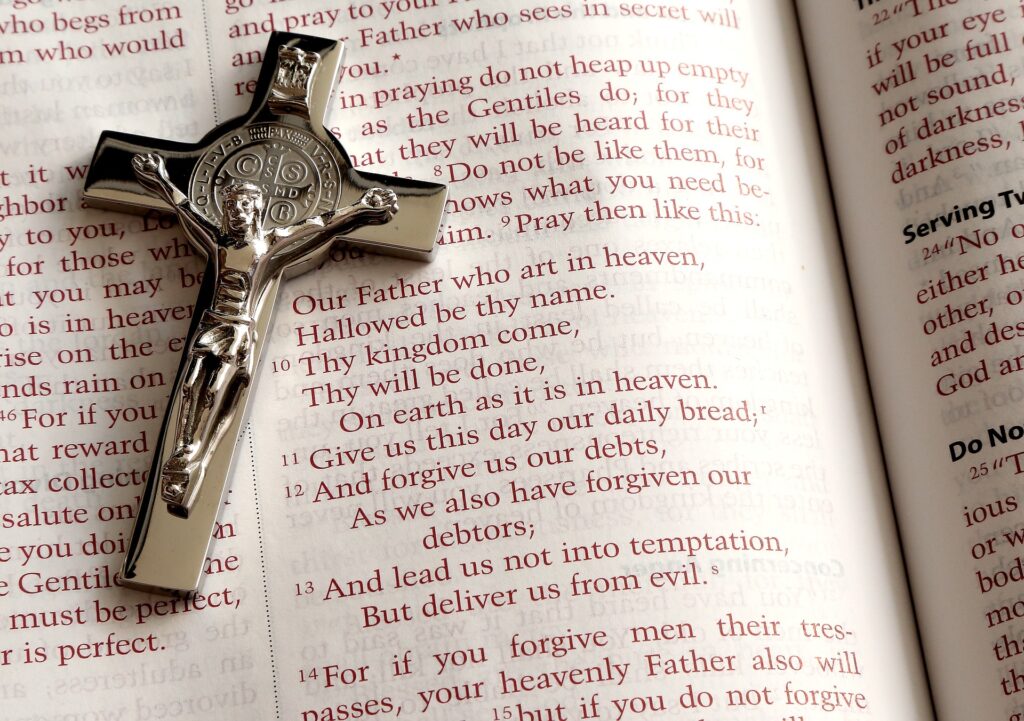 13 For he has rescued us from the dominion of darkness and brought us into the kingdom of the Son he loves, 14 in whom we have redemption, the forgiveness of sins.
The Apostle Paul further explains the benefits of being in the Kingdom of God as he wrote to his spiritual son, Timothy.
2 Timothy 4:18 NIV
18 The Lord will rescue me from every evil attack and will bring me safely to his heavenly kingdom. To him be glory for ever and ever. Amen.
Suggested Prayer: We always give God thanks for delivering us from the powers of darkness and for bringing us into His Kingdom with all its benefits.
For Thine is the Power
There are numerous scriptures that speak of God's power.
1 Chronicles 29:12 NIV
12 Wealth and honor come from you;
you are the ruler of all things.
In your hands are strength and power
to exalt and give strength to all.
Psalm 21:13 NIV
13 Be exalted in your strength, Lord;
we will sing and praise your might.
God so wants to equip His children that He even shares His great power with us.
Psalm 68:35 NIV
35 You, God, are awesome in your sanctuary;
the God of Israel gives power and strength to his people.
Praise be to God!
For centuries, God has promised help and wisdom for His children to be successful in their earthly work.  From the beginning, He told man to be fruitful and multiply.  He promised to bless Abraham and to make his name great. As He promised to the Israelites, He gives us the power to get wealth.
Deuteronomy 8:18 NIV
18 But remember the Lord your God, for it is he who gives you the ability to produce wealth, and so confirms his covenant, which he swore to your ancestors, as it is today.
God demonstrated His great power when He raised Jesus from the dead, and after our earthly death, He will raise us up to our heavenly home.
1 Corinthians 6:14 NIV
18 But remember the Lord your God, for it is he who gives you the ability to produce wealth, and so confirms his covenant, which he swore to your ancestors, as it is today.
Jesus declared His followers would have supernatural power over the power of Satan.
Luke 10:19 NIV
19 I have given you authority to trample on snakes and scorpions and to overcome all the power of the enemy; nothing will harm you.
He also promised the disciples power when the Holy Ghost came upon them.  This supernatural occurrence brought about the beginning of the church on the Day of Pentecost.
Acts 1:8 NIV
8 But you will receive power when the Holy Spirit comes on you; and you will be my witnesses in Jerusalem, and in all Judea and Samaria, and to the ends of the earth."
Suggested Prayer:  As we conclude our prayer, we can thank God for His great power and for the power that He extends to us. Power to get wealth, to prosper, power to witness to others, power to overcome temptation, power to forgive and love even those who are our enemies.
In the Apostle Paul's prayer for the believers at Ephesus, he asks for the power of God to be manifest in them.
Ephesians 1:18-19 NIV
18 I pray that the eyes of your heart may be enlightened in order that you may know the hope to which he has called you, the riches of his glorious inheritance in his holy people, 19 and his incomparably great power for us who believe. That power is the same as the mighty strength
He assured the believers that God's power was at work in them to make manifest His purpose in their lives. What an encouraging promise!  When we are given an assignment in the Kingdom, most times it seems impossible in our own strength. At these times, we rely on promises like this to give us the courage and determination to begin the journey no matter how improbable it may seem.
Ephesians 3:20-21 NIV
20 Now to him who is able to do immeasurably more than all we ask or imagine, according to his power that is at work within us, 21 to him be glory in the church and in Christ Jesus throughout all generations, for ever and ever! Amen.
All of the great promises in the Bible are available to us as Kingdom citizens. It is God's will to grant all good things to us. It is our decision to accept Jesus as our King and to submit our lives to His Lordship. Several scriptures state the possibilities that are available to us based on our decision to make Jesus the Lord of our lives. We may escape the immorality of the world and be partakers of His divine nature as His cherished children.
2 Corinthians 1:20 NIV
20 For no matter how many promises God has made, they are "Yes" in Christ. And so through him the "Amen" is spoken by us to the glory of God.
2 Peter 1:4 NIV
4 Through these he has given us his very great and precious promises, so that through them you may participate in the divine nature, having escaped the corruption in the world caused by evil desires.
2 Peter 3:18 NIV
18 But grow in the grace and knowledge of our Lord and Savior Jesus Christ. To him be glory both now and forever! Amen.
Ephesians 5:1 NIV
1 Follow God's example, therefore, as dearly loved children
For Thine is the Glory Forever
The glory of the Lord is defined in Vine's Concise Dictionary of the Bible with a multitude of words.  To be in a state of high status.  Great wealth or related reward.  It can also mean a ruler with a special focus on a person of high regard and wealth.  A display of power as in a miracle. Weight in a good sense, splendor, honorable. One who is totally awesome, and so glorious, filling a space with divine light whenever he is present.
Exodus 29:43 NIV
43 there also I will meet with the Israelites, and the place will be consecrated by my glory.
Doxa, (Strong's #1391) primarily signifies the honor resulting from a good opinion. It is used of the nature and acts of God in self-manifestation, what He is and does, as exhibited in whatever way He reveals Himself in these respects, and particularly in the person of Christ, in whom essentially His glory has ever shone forth and ever will do. It was exhibited in the character and acts of Christ in the days of His flesh.
John 2:11 NIV
11 What Jesus did here in Cana of Galilee was the first of the signs through which he revealed his glory; and his disciples believed in him.
Believers are to share in the glory as they become conformed into the image of Christ.
Romans 8:17 NIV
17 Now if we are children, then we are heirs—heirs of God and co-heirs with Christ, if indeed we share in his sufferings in order that we may also share in his glory.
2 Corinthians 3:18 NIV
18 And we all, who with unveiled faces contemplate[a] the Lord's glory, are being transformed into his image with ever-increasing glory, which comes from the Lord, who is the Spirit.
King David admonished all men to praise the Lord for the glory of His Kingdom.
Psalm 145:10-13 NIV
10 All your works praise you, Lord;
your faithful people extol you.
11 They tell of the glory of your kingdom
and speak of your might,
12 so that all people may know of your mighty acts
and the glorious splendor of your kingdom.
13 Your kingdom is an everlasting kingdom,
and your dominion endures through all generations.
The Lord is trustworthy in all he promises
and faithful in all he does.[a]
Our prayer time can appropriately be concluded as we humbly proclaim as did David the glory and power of our Lord God.
1 Chronicles 29:10-13 NIV
David's Praise to God
"Praise be to you, Lord,
the God of our father Israel,
from everlasting to everlasting.
11 Yours, Lord, is the greatness and the power
and the glory and the majesty and the splendor,
for everything in heaven and earth is yours.
Yours, Lord, is the kingdom;
you are exalted as head over all.
12 Wealth and honor come from you;
you are the ruler of all things.
In your hands are strength and power
to exalt and give strength to all.
13 Now, our God, we give you thanks,
and praise your glorious name.
Psalm 72:19 NIV
19 Praise be to his glorious name forever;
may the whole earth be filled with his glory.
Amen and Amen.
Suggested Prayer: Thank Jesus for all He has done to make it possible for you to be a part of His kingdom. Thank Him for His power and the power that He has entrusted to you to be a witness for Him in the earth. Thank Him for the Holy Spirit who helps you become all He created you to be. Confirm to Him that you choose to submit your life to His plan and purpose for you and thank Him for perfecting you into His image.
AMEN!! So Be It!