Thine is the Kingdom, Part 1
The prayer outline given to the disciples and to us by Jesus begins and ends with praise to the Father. When we acknowledge all the blessings and benefits our heavenly Father provides to us, praising and offering our worship to Him is a natural response. Even in giving Him praise, we receive the blessing of His presence, peace, and joy. It has been said, "You can't out give God." No matter how much we praise Him, He gives back to us more forgiveness, provision, comfort, and assurance than we can ever repay.
Our praise to God can and does take various forms of expression. Some people want to sing loudly and exuberantly in an attitude of celebration. Others offer their praise by making declarations of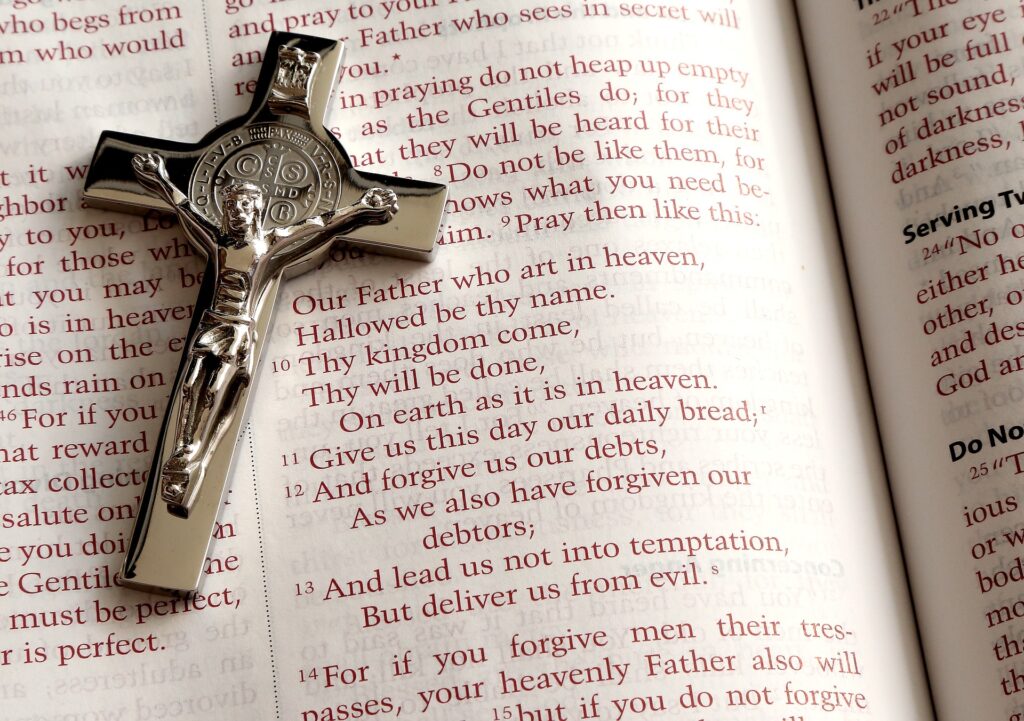 their love and devotion to Him in a quieter manner, blessing Him for His provision and mercy. At various time and circumstances worshipers will loudly give shouts of praise to Him. All of these expressions of praise, hallal, barak, and shabach, are found in the Old Testament.
We can and often do praise God with the movements of our bodies. Worshipers often raise their hands as they sing praises. Todah and yadah are Hebrew words used in the Old Testament which mean to extend or to throw out the hands to worship as an expression of thanksgiving.
The Bible in Psalm 134:2 gives a command to "life your hands and bless the Lord."
Psalm 134:2 NIV
2 Lift up your hands in the sanctuary
and praise the Lord.
Personal Testimony: My personal experience of going from denominational churches where worship consisted of singing a few hymns while holding the book in your hands to a non-denominational church where people sang, clapped, danced, and lifted their hands to God was a challenge to my way of thinking. As I tried to understand the differences, Holy Spirit reminded me of how I respond at a football game, which I thoroughly enjoy.  I am not a silent observer. When my favorite team is advancing on the field, I am very vocal in my praise and encouragement to the players. The Holy Spirit asked me if God did not deserve as much or more of my expression of praise and gratitude as a football team?  I realized the answer was "Of course," and I readily changed my attitude and actions.
Musical instruments are often used in praise to God. Zamar means to pluck the strings of an instrument or to praise with song. Tehillah refers to singing in the Spirit or singing psalms.
King David is the one who wrote of praising the Lord more than any other person in the Bible. He assigned certain of the Levites to be on duty as singers' day and night in the temple.
1 Chronicles 9:33 NIV
33 Those who were musicians, heads of Levite families, stayed in the rooms of the temple and were exempt from other duties because they were responsible for the workday and night.
The Lord's ability to save from enemies was a reason to offer Him praise.
Psalm 18:3 NIV
3 I called to the Lord, who is worthy of praise,
and I have been saved from my enemies.
King Jehoshaphat employed singers to go before the army of Israel and their enemies were defeated.
2 Chronicles 20:21-22 NIV
21 After consulting the people, Jehoshaphat appointed men to sing to the Lord and to praise him for the splendor of his[a] holiness as they went out at the head of the army, saying:
"Give thanks to the Lord,
for his love endures forever."
22 As they began to sing and praise, the Lord set ambushes against the men of Ammon and Moab and Mount Seir who were invading Judah, and they were defeated.
The praise of God's people brings His presence into their midst.
Psalm 22:3 NIV
3 Yet you are enthroned as the Holy One;
you are the one Israel praises
In the midnight hour, the Apostle Paul and Silas experienced not only God's presence but His deliverance from prison when they sang praises to Him.
Acts 16:25-26 NIV
25 About midnight Paul and Silas were praying and singing hymns to God, and the other prisoners were listening to them. 26 Suddenly there was such a violent earthquake that the foundations of the prison were shaken. At once all the prison doors flew open, and everyone's chains came loose.
The Apostle Paul encouraged believers at Ephesus to sing psalms, hymns, and spiritual songs to the Lord.
Ephesians 5:19 NIV
19 speaking to one another with psalms, hymns, and songs from the Spirit. Sing and make music from your heart to the Lord,
Personal Testimony –I have personally experienced remarkable results when I freely sang in the Spirit and danced before the Lord. In different circumstances, praising God in these ways has brought both physical healing and favor in business situations.
One of my favorite verses that describes believers in Jesus Christ also confirms the natural response we make to Jesus who has delivered us from the kingdom of darkness, sin, and guilt, into His Kingdom of spiritual light, forgiveness, grace, provision, healing, and purpose.
1 Peter 2:9 NIV
9 But you are a chosen people, a royal priesthood, a holy nation, God's special possession, that you may declare the praises of him who called you out of darkness into his wonderful light.
I particularly like to read the Amplified version of this verse as it explains our position in Christ so well.
1 Peter 2:9 Amplified Bible (AMP)
9 But you are a chosen race, a royal priesthood, a consecrated nation, a [special] people for God's own possession, so that you may proclaim the excellencies [the wonderful deeds and virtues and perfections] of Him who called you out of darkness into His marvelous light.
In reflecting on the beginning of the Lord's Prayer in which we acknowledge the various names of God that represent His character and work in our lives, it is totally appropriate to give Him praise for all He is to us as we conclude our time of prayer.  Because God is our righteousness, our sanctifier, our healer, our provider, our constant companion, our protector, our peace, and the one who directs our steps, we can confidently praise Him for helping us through any challenge life brings our way. With Him, nothing is impossible!