The disciples had watched Jesus go to places alone to pray many times. They realized that after these times of prayer, Jesus was able to teach great crowds of people, he performed miracles of healing, and multiplied small amounts of food to feed thousands of people. They wanted to know how to pray the way Jesus did because they thought there must be a connection between prayer and the miraculous things He did. Prayer was their opportunity to have a relationship with Father God like Jesus experienced.
Jesus was more than happy to teach these men how to pray. He was their Messiah, their Savior, and teaching them how to live in His kingdom was a large part of what He came to earth to accomplish. These men were being invited into a close relationship with Father God. Learning to pray was their first instruction about a new way of life.
The prayer outline He taught is a "kingdom" prayer. It is the way citizens of His kingdom of heaven on earth are to pray, to talk to God. By praying the given parts, we praise Father God for who He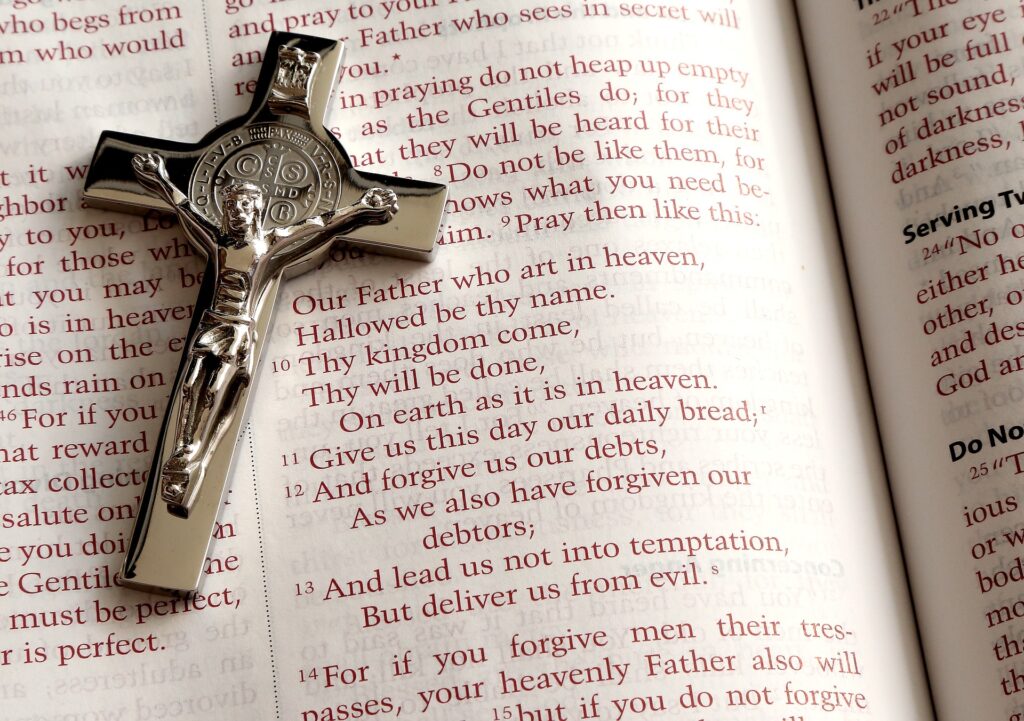 is, we agree with and declare His will is to be done in His colony on earth, we ask for our daily needs to be met, and we repent for the times we do not follow kingdom practices, the times we sin. The phrases in the prayer are for "our" and "us". This tells us that kingdom citizens are to pray for other citizen's needs and welfare that brings benefit to the Kingdom.
For us to understand the significance of all the parts of the prayer, let us begin with why God can be addressed as "our Father."
In the book of Genesis, we are told that God created our world and all that is in it. (Genesis 1:1-31) This act of creation included man and woman, who were made in the image of God, their Father. God creates all human beings because He wants them to be a part of His kingdom on earth. Throughout the Bible, we see God wanting people to love Him, honor, and obey Him. He wants to be their God and them to be His people.
Genesis 1:26 NIV
26 Then God said, "Let us make mankind in our image, in our likeness, so that they may rule over the fish in the sea and the birds in the sky, over the livestock and all the wild animals, and over all the creatures that move along the ground."
God had a plan for Adam and Eve just as He has a plan for every person. In Psalm 139:14-17, King David explained how God created him and planned his life. God had plans for him even before he was conceived. In addition, God wrote a book about the events and times of his life.
Psalm 139:14-17 NIV
14 I praise you because I am fearfully and wonderfully made;
your works are wonderful,
I know that full well.
15 My frame was not hidden from you
when I was made in the secret place,
when I was woven together in the depths of the earth.
16 Your eyes saw my unformed body;
all the days ordained for me were written in your book
before one of them came to be.
17 How precious to me are your thoughts,[a] God!
How vast is the sum of them!
Each person was created by God and a plan for their life was written by Him in a book even before their conception. So, God truly is our Father. Our earthly parents only implemented God's plan to have each one of us born into the earth.
Turning our attention back to the Garden of Eden, which was the home God made for the first man and woman, Adam and Eve, scripture records they were given a perfect environment. The Garden is a picture of God's perfect will for people. All their needs were met. They were to be fruitful, multiply, fill the earth, and rule over everything that was upon the earth. They were to cultivate, keep, and protect the Garden. God came and talked with them, and they enjoyed His presence.
God gave one rule for them to follow in the Garden. "Do not eat of the tree of the knowledge of good and evil for when you do, you shall die."  (Genesis 2:17) Eve, and then Adam, were deceived by the devil in the form of a serpent, and they disobeyed God's one rule. They ate the fruit of the tree of the knowledge of good and evil. This sinful act separated them from God. They realized their nakedness and felt guilt and shame. God killed animals and made clothing to cover their nakedness. This is the first-time blood was shed to cover man's sin.
Adam and Eve lost their place of dominion over the earth, and a sin nature came upon all mankind. God declared curses upon them, upon the serpent, and drove them from the Garden. The curse spoken upon the serpent, Satan, declared there would be a descendant of Eve who would break his power. (Genesis 3:15)
Genesis 3:15 NIV
15 And I will put enmity
between you and the woman,
and between your offspring[a] and hers;
he will crush[b] your head,
and you will strike his heel."
Footnotes
Genesis 3:15 Many consider this verse the protevangelium, the first announcement of the gospel. This is the first prophecy about the Messiah (Christ), who through His death on the cross and resurrection would ultimately defeat Satan, the power behind the serpent, with a death blow. See Is 9:6; Matt 1:23; Luke 1:31; Rom 16:20; Gal 4:4; Rev 12:17.
Jesus knew what He was to do in His lifetime. He knew He was the descendant of Eve that would defeat Satan and reconcile, bring mankind back into a relationship with God. The disciples did not realize these truths when they asked Him to teach them to pray. However, we know, because of our position this side of the cross, the reason Jesus could tell the disciples to pray to God, their Father. When Jesus fulfilled His mission, He would be that perfect blood sacrifice that would pay for their sins and reconcile them to their Father God.
Because of the blood sacrifice Jesus made, it is possible for every person on earth to receive God's forgiveness and have a relationship with God as His son or daughter and be a citizen of His kingdom.
Galatians 4:4-7 NIV
4 But when the set time had fully come, God sent his Son, born of a woman, born under the law, 5 to redeem those under the law, that we might receive adoption to sonship. 6 Because you are his sons, God sent the Spirit of his Son into our hearts, the Spirit who calls out, "Abba, Father." 7 So you are no longer a slave, but God's child; and since you are his child, God has made you also an heir.
Benefits of Kingdom Citizenship
Sonship is one kingdom benefit available to us because of the sacrifice of the blood of Jesus. There are other spiritual and physical realities that belong to those who accept and believe in Him as their Messiah, their Savior, and are brought into His kingdom.
The blood of Jesus makes it possible for all my sins to be forgiven. Therefore, sin does not have dominion over me. I can have a relationship with Jesus.
Revelation 1:5 NIV
5 and from Jesus Christ, who is the faithful witness, the firstborn from the dead, and the ruler of the kings of the earth.
To him who loves us and has freed us from our sins by his blood,
The blood of Jesus allows me to enter the most holy place, the place of God's presence, with a true and sincere heart.
Hebrews 10:19-22 NIV
19 Therefore, brothers and sisters, since we have confidence to enter the Most Holy Place by the blood of Jesus, 20 by a new and living way opened for us through the curtain, that is, his body, 21 and since we have a great priest over the house of God, 22 let us draw near to God with a sincere heart and with the full assurance that faith brings, having our hearts sprinkled to cleanse us from a guilty conscience and having our bodies washed with pure water.
The blood of Jesus testifies that by the stripes Jesus bore in His body during the crucifixion provide healing for us.
Isaiah 53:5 NIV
5 But he was pierced for our transgressions,
he was crushed for our iniquities;
the punishment that brought us peace was on him,
and by his wounds we are healed.
This healing is for physical, mental, and emotional wounds. Jesus truly is the Great Physician.
The blood of Jesus testifies that I can be free from the law of sin and death.
Romans 8:2 NIV
2 because through Christ Jesus the law of the Spirit who gives life has set you[a] free from the law of sin and death.
The blood testifies that I can be in a blood covenant relationship with Father God, and I can be free from the fear of death and hell. I can have immortality and never die spiritually.
2 Timothy 1:10 NIV
10 but it has now been revealed through the appearing of our Savior, Christ Jesus, who has destroyed death and has brought life and immortality to light through the gospel.
Blood Bought Blessings for Believers
Jesus is the Messiah, the Savior, Father God promised in Genesis 3:15.  It was always God's will and plan for all humans to be His sons and daughters, citizens in His earthly kingdom. However, Adam's disobedience and sin caused a sin nature to come upon all mankind. God's plan to redeem, buy back, every person born on the earth was for His Son, Jesus, to come to earth, be born as a man, and to pay the price for man's sins. All who accept this sacrificial payment for their debt of sin are welcomed into God's kingdom here on earth and for eternity. All the promises in scripture belong to those who trust the blood of Jesus to pay the price for their sins and who make Jesus the Lord, the King, of their lives.
John 3:16-17 NIV
16 For God so loved the world that he gave his one and only Son, that whoever believes in him shall not perish but have eternal life. 17 For God did not send his Son into the world to condemn the world, but to save the world through him.
The apostle Paul explained the results of the death, burial, and resurrection of Jesus to believers in the church at Corinth. In another letter, he confirmed that we can be reconciled to God because of what Jesus did for us.
1 Corinthians 15:3-4 NIV
3 For what I received I passed on to you as of first importance[a]: that Christ died for our sins according to the Scriptures, 4 that he was buried, that he was raised on the third day according to the Scriptures,
2 Corinthians 5:18-20 NIV
18 All this is from God, who reconciled us to himself through Christ and gave us the ministry of reconciliation: 19 that God was reconciling the world to himself in Christ, not counting people's sins against them. And he has committed to us the message of reconciliation. 20 We are therefore Christ's ambassadors, as though God were making his appeal through us. We implore you on Christ's behalf: Be reconciled to God.
To be reconciled means to renew a friendship or to restore a right relationship.  God created each person to be a citizen of His earthly kingdom.  Sin separated us from God.  The sacrifice of Jesus and his shed blood pay the price for our forgiveness. When we accept this by faith and repent of our sins, we are in a restored relationship with God.
The first record of Jesus' public teaching after he was tempted by Satan, is in Matthew 4:17. "Repent, for the kingdom of heaven is at hand." He wanted everyone to come into the kingdom of heaven and the disciples were willing to learn about the first step in this journey. Jesus instructed all who heard his teaching they were to repent for not accepting Him as their Messiah, their Savior, and to repent for their sins.
How to talk to God
You may have considered yourself to be an enemy of God because of the life you have lived or because you have never known about Jesus and His finished work of salvation. You may have not believed God exists or that He has any loving concern for your well-being. The good news is that God does love you and He wants you to be in His Kingdom.  You can be forgiven, and you can be reconciled to God. If you believe that Jesus paid the debt for your sins and you want Him to become the Lord, the King, of your life, pray and tell Him your desires. Tell Him you are sorry, you repent, for having lived in sin and that you ask Him to forgive you. Tell Him you accept the blood of Jesus as payment for your sin. Tell Him you want to follow Jesus for the rest of your life and obey His commandments and walk in His ways. He will graciously receive you as a son or daughter, a citizen in His Kingdom.