Lead us not into Temptation
There are scriptures which assure us that it is God's desire to protect and keep us from evil. The very life of Jesus on earth is the primary evidence of God's love for people and His desire for everyone to be in a close relationship with Him. In His final prayer for His disciples, Jesus ask His Father to "keep them from evil,' John 17:15. The Apostle Paul wrote to Galatian believers about what Jesus did for them that was according to God's plan.
Galatians 1:4 NIV
4 who gave himself for our sins to rescue us from the present evil age, according to the will of our God and Father,
The Bible states temptation can mean enticement to evil or testing in general, including various kinds of trials. God permits testing for the purpose of strengthening faith and character. Satan entices to evil for the purpose of destruction. To be tempted from the divine standpoint, means a positive test, from the devil's standpoint, it implies enticement to sin; from Jesus' standpoint, it is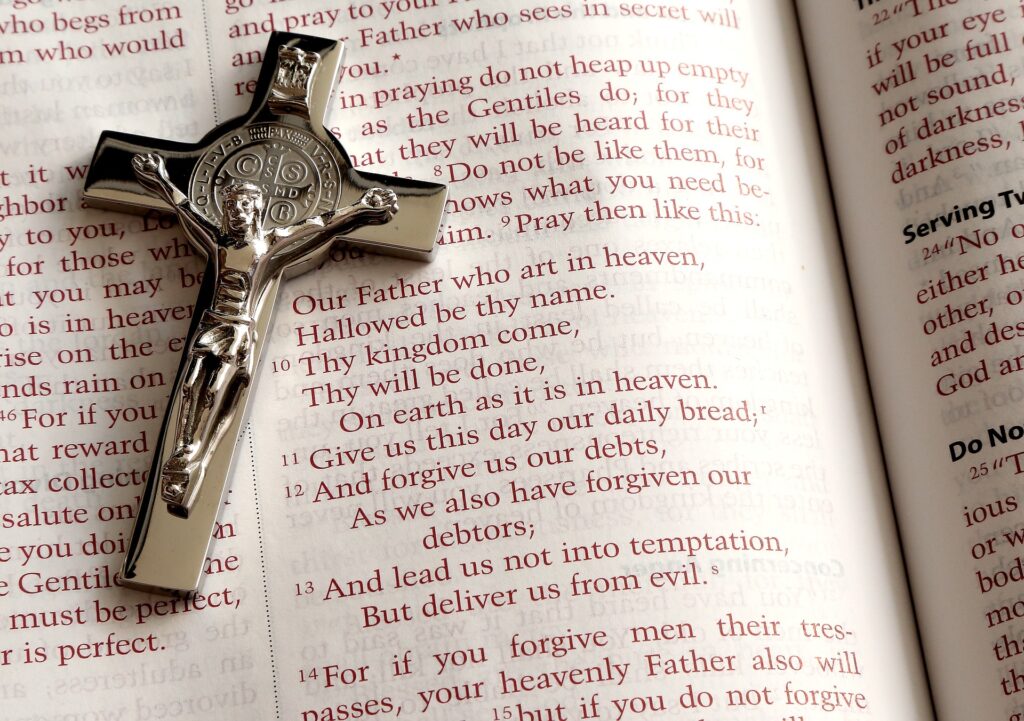 a challenge from Satan to test God's sovereignty and plan.
Simply stated, to tempt is to test or to try, to cause to make a choice. The disciples who had asked Jesus to teach them to pray had choices to make. They had to decide if Jesus was really the promised Messiah. They had to choose as in the case of Peter, whether to acknowledge that they were a follower of Jesus. They were not born again and did not have the Holy Spirit living within them. (John 20:22) They had not been delivered from the power of darkness and had not been translated into the kingdom of God. (Colossians 1:13) Jesus understood their position and asked Father God to help these men as they faced tough decisions. Jesus had endured the temptations of Satan, so He knew the disciples would also face these challenges.
Jesus, Our Helper
We know from the accounts in Matthew that Jesus was tempted by the devil on three separate occasions. Jesus answered each temptation with a declaration and a scripture. "It is written." In the last temptation, He took His authority and, also, quoted a scripture. This is our example. When we are tempted, we answer with a faith declaration of a scripture.
Matthew 4:10 NIV
10 Jesus said to him, "Away from me, Satan! For it is written: 'Worship the Lord your God, and serve him only.
The writer of Hebrews gives us words of encouragement about the help we have available through Jesus. He lived as a man and experienced the same temptations we have. Because of His earthly life, He understands what it is to be tempted. He did not commit any sin during His life on earth. This indicates to us that temptations can lead us to commit sins, to be disobedient to the ways God wants us to think and function as citizens of His Kingdom.
Hebrews 2:18 NIV
18 Because he himself suffered when he was tempted, he is able to help those who are being tempted.
Hebrews 4:15 NIV
15 For we do not have a high priest who is unable to empathize with our weaknesses, but we have one who has been tempted in every way, just as we are—yet he did not sin.
Scriptures Regarding Temptations
James, the half-brother of Jesus, and a leader in the Jerusalem church gives the proper perspective about temptations, as tests of faith. James became a believer after Jesus was resurrected and was later martyred for his faith.
James 1:1-4 NIV
1 James, a servant of God and of the Lord Jesus Christ,
To the twelve tribes scattered among the nations:
Greetings.
Trials and Temptations
2 Consider it pure joy, my brothers and sisters, whenever you face trials of many kinds, 3 because you know that the testing of your faith produces perseverance. 4 Let perseverance finish its work so that you may be mature and complete, not lacking anything.
James 1:12-17 NIV
12 Blessed is the one who perseveres under trial because, having stood the test, that person will receive the crown of life that the Lord has promised to those who love him.
13 When tempted, no one should say, "God is tempting me." For God cannot be tempted by evil, nor does he tempt anyone; 14 but each person is tempted when they are dragged away by their own evil desire and enticed. 15 Then, after desire has conceived, it gives birth to sin; and sin, when it is full-grown, gives birth to death.
16 Don't be deceived, my dear brothers and sisters. 17 Every good and perfect gift is from above, coming down from the Father of the heavenly lights, who does not change like shifting shadows.
The entire book written by James contains many admonitions concerning living a life pleasing to God. In chapter 4 verse 7, he makes a simple yet profound statement about dealing with the temptations of the devil.
James 4:7 NIV
7 Submit yourselves then to God. Resist the devil, and he will flee from you.
Encouraging words were written by Paul to the believers at Corinth regarding temptations. He instructed them to understand that their experiences with temptation were not unique to them. They were to believe God would make a way for them to escape the temptations that came into their lives. This is a lesson for us. Temptations will come, but we are to seek God and trust Him for the way out rather than caving into the temptation. Claim the promise of scripture and exercise your authority over the problem.
1 Corinthians 10:13 NIV
13 No temptation has overtaken you except what is common to mankind. And God is faithful; he will not let you be tempted beyond what you can bear. But when you are tempted, he will also provide a way out so that you can endure it.
In his second letter to the church at Corinth, Paul wrote to them during a time in which he had experienced severe danger and tribulation. The problems were so severe he called the situation "a sentence of death."
2 Corinthians 1:9-10 NIV
9 Indeed, we felt we had received the sentence of death. But this happened that we might not rely on ourselves but on God, who raises the dead. 10 He has delivered us from such a deadly peril, and he will deliver us again. On him we have set our hope that he will continue to deliver us,
To the Thessalonians he wrote that he was very concerned about how they were holding up under pressure from temptations brought upon them by the devil.
1 Thessalonians 3:5 NIV
5 For this reason, when I could stand it no longer, I sent to find out about your faith. I was afraid that in some way the tempter had tempted you and that our labors might have been in vain.
An Old Testament Test of Faith
A very severe test of faith occurred in Abraham's life when he was about 100 years old. His wife, Sarah, who had been barren all her life, gave birth to a miracle baby boy, Isaac, just as God had promised.
Genesis 17:21 NIV
21 But my covenant I will establish with Isaac, whom Sarah will bear to you by this time next year."
The test of faith for Abraham came when God instructed him to sacrifice "his only son Isaac" as a burnt offering. The account is given in Genesis 22:1-19 of Abraham and Isaac's journey to a mountain in the land of Moriah. Abraham told the men he had taken with him that" he and the lad will go yonder and worship and come again to you." This was a profound statement of faith, that the two of them would return together.
After Abraham had built an altar, secured Isaac and the wood on it, and raised his hand to kill Isaac, an angel spoke to Abraham to not harm the boy.
Genesis 22:12 NIV
12 "Do not lay a hand on the boy," he said. "Do not do anything to him. Now I know that you fear God, because you have not withheld from me your son, your only son."
A ram caught in a nearby thicket was provided by God to be the sacrifice instead of Isaac. Abraham called the place Jehovah-jireh, the Lord provides.
Holy Spirit – God with Us
Jesus promised His disciples that the Father would send the Holy Spirit to them when He was not with them anymore. Holy Spirit would be their Helper, Comforter, Advocate, Intercessor, Counselor, Strengthener, Standby, and Teacher. He would give them courage and strength for every challenge.
John 14:25-27 NIV
25 "All this I have spoken while still with you. 26 But the Advocate, the Holy Spirit, whom the Father will send in my name, will teach you all things and will remind you of everything I have said to you. 27 Peace I leave with you; my peace I give you. I do not give to you as the world gives. Do not let your hearts be troubled and do not be afraid.
The Apostle Paul explained the work of the Holy Spirit as our intercessor when we do not even know how to pray. This situation could exist because the struggles of life are so great, and we are so distraught that we can't even pray for a solution.
Romans 8:26-28 NIV
Our Victory in Christ
26 In the same way, the Spirit helps us in our weakness. We do not know what we ought to pray for, but the Spirit himself intercedes for us through wordless groans. 27 And he who searches our hearts knows the mind of the Spirit, because the Spirit intercedes for God's people in accordance with the will of God.
28 And we know that in all things God works for the good of those who love him, who[a] have been called according to his purpose.
He also teaches us that Jesus is "at the right hand of God, who also makes intercession for us." Romans 8:34 He concludes this chapter with some of the most comforting promises of the entire Bible.
Romans 8:35-39 NIV
35 Who shall separate us from the love of Christ? Shall trouble or hardship or persecution or famine or nakedness or danger or sword? 36 As it is written:
"For your sake we face death all day long;
we are considered as sheep to be slaughtered."
37 No, in all these things we are more than conquerors through him who loved us. 38 For I am convinced that neither death nor life, neither angels nor demons, neither the present nor the future, nor any powers, 39 neither height nor depth, nor anything else in all creation, will be able to separate us from the love of God that is in Christ Jesus our Lord.
Our God-given Armor
God is so gracious to give us the things we need to be successful in this life. We have the inspired Word of God, the Bible, the constitution of His Kingdom. We have the Holy Spirit living within us to guide, teach, and intercede for us as well as Jesus is also our intercessor before the throne of the Father. There are two more assets kingdom citizens have to protect themselves from the attacks of Satan. One protective possession we have is the armor of God as explained in Ephesians 6:11-18 and the other is the promises found in Psalm 91.
The armor includes the girdle of truth, the breastplate of righteousness, the gospel of peace, the shield of faith, the helmet of salvation, and the sword of the Spirit, which is the Word of God. Jesus is all of these things to us. As we pray, we declare that He is our truth. He is our righteousness. He has brought us peace with God. Our faith in Him is our shield against temptation. He is our salvation, and His Word is the sword of the Spirit by which we defeat Satan just as He did when He was tempted. A thorough study of these scriptures will bring you into a deeper appreciation of all Jesus is to you.
Psalm 91 is the favorite scripture for protection for many Christians. All of the promises of this psalm belong to the person who (1) has made God his dwelling place. The second because is that the person has set his/her love upon God. The third because is that the person knows God's name. This psalm is one that can be read as a prayer with declarations such as "I declare that you are my refuge and my fortress, my God, I do trust in you."
Declaring the promises of God follows the example Jesus gave us when Satan confronted him. This is a pattern of my prayer life that has brought me comfort, confidence, faith, and peace through many trials and temptations of life.
Suggested Prayer: Lord, I choose to submit myself to you and your Word. I thank you for making a way for me to escape the temptations of life. Thank you for the Holy Spirit who prompts me to resist the devil and his "bait" to get me to sin. I thank you your Word promises nothing can separate me from you.
Verbally put on the whole armor of God daily in your prayer time. This will increase your self-image as a child of God, increase your faith, and you will be better prepared to face the challenges of life. You will be better equipped to do battle so God's plans and purposes for your life will be manifest.
I set my heart today to live in your presence, under the shadow of your protection. I set my heart to love you today, and I give you praise for all you are that is represented in your names.
Help me to resist all of the temptations of this life so I can live pleasing to you.