The Lord's Prayer begins and ends with praise.  To acknowledge "our Father" signifies that the God of the universe, the Creator, who is all knowing, everywhere at all times, and is all powerful, belongs to us, and it brings a sense of awe, thanksgiving, and praise. "Father" is a term of endearment and familiarity that causes us to humbly thank Him for belonging to us and us to Him.
God's names are His gifts to us because His names reveal His character and what He will do in our lives. A study of these names helps us to better understand who God really is.  The meanings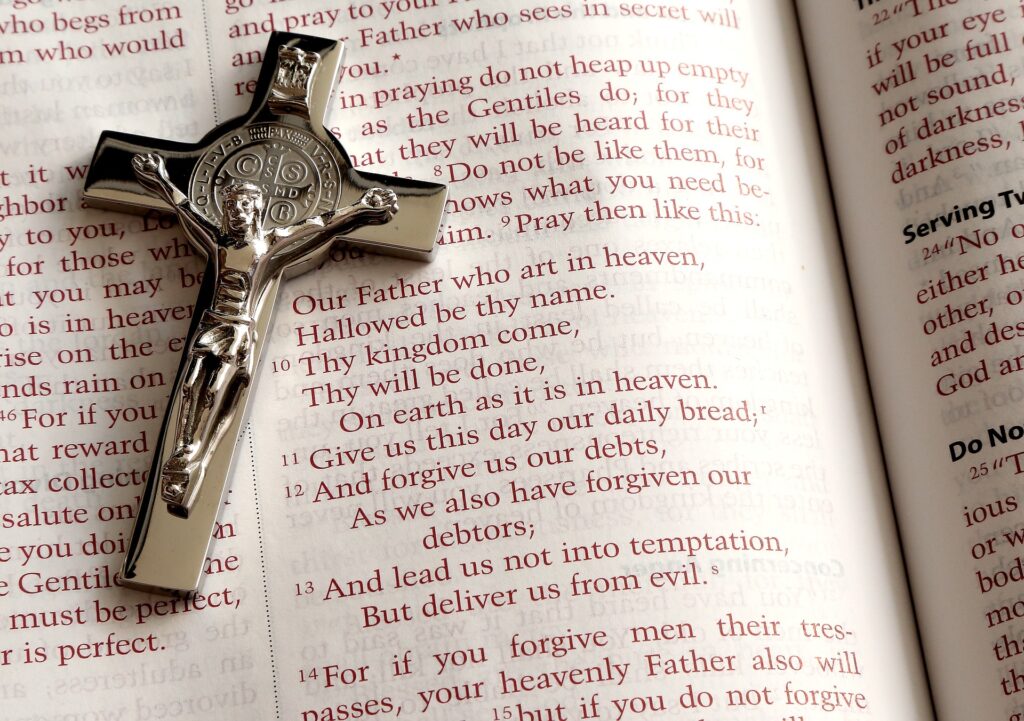 behind the names reveal the predominate personality and nature of the One who bears them.
As I learned the names of God, my love for Him grew profoundly. My confidence in Him increased and my fears of life's circumstances diminished.  As I confessed His names daily, my faith in Him and His Word became the foundation of my life.
In our culture, we do not often use the word "hallow" so we go to the dictionary to understand its meaning.  It means "to sanctify or set apart; to praise, to adore."  We can either sanctify, set apart to praise the name of God by our words and lifestyle or we can profane His name by our conduct.
Matthew 5:16 NIV
16 In the same way, let your light shine before others, that they may see your good deeds and glorify your Father in heaven.
How important for us to realize that the way we live can either bring honor and glory to our Father God or a disobedient lifestyle can profane and bring dishonor to Him. As you pray, tell God it is your heart's desire to bring honor and praise to Him through your words and actions.
There is a direct correlation between the names of God in the Old Covenant and the benefits provided by the sacrifice of Jesus and the New Covenant that was established by His blood. Jesus told his disciples that if they had seen Him, they had seen the Father.  He and the Father are one.
John 10:30 NIV
30 I and the Father are one."
The Compound Names of God
The eight compound names of God found in the Old Testament begin with the word Jehovah. This term was spoken by the Jewish people rather than what was spoken to Moses in Exodus 3:13-15, "I AM THAT I AM", which they considered too sacred to be spoken aloud.  They used the name Jehovah which implies that God is personal, intimate, and ever present.
As you read the names of God, do not be concerned about the correct way to say them in Hebrew.  The English meaning of the names is given and can help you become more familiar with your Father God.
Jehovah – The Existing One or Lord.  To be or to exist, to become, to be known.  God reveals himself continually.  This word was used in the early English translations of the Bible. Rev. 1:8
Revelation 1:8 NIV
8 "I am the Alpha and the Omega," says the Lord God, "who is, and who was, and who is to come, the Almighty."
Our New Covenant Gift of Righteousness, Right Standing with God
Jehovah–Tsidkenu – The Lord who is my righteousness. To be straight, righteous, in right standing with God is the meaning of righteousness.  This name indicates that God already considered mankind restored and reconciled to Him, because his plan was for Jesus, a descendant of David, to pay the price for our sins and provide a way for us to be accepted by God.  This understanding was spoken by the prophet Jeremiah years before Jesus was born.
Jeremiah 23:5-6 NIV
5 "The days are coming," declares the Lord,
    "when I will raise up for David[a] a righteous Branch,
a King who will reign wisely
    and do what is just and right in the land.
6 In his days Judah will be saved
    and Israel will live in safety.
This is the name by which he will be called:
    The Lord Our Righteous Savior.
The apostle Paul explained the connection between the sacrificial death of Jesus and the gift of righteousness that is now available to those who believe and accept Him as Lord, King, and Savior. The "one man" was Adam through which a sin nature came upon all mankind.
Romans 5:17-19 NIV
17 For if, by the trespass of the one man, death reigned through that one man, how much more will those who receive God's abundant provision of grace and of the gift of righteousness reign in life through the one man, Jesus Christ!
18 Consequently, just as one trespass resulted in condemnation for all people, so also one righteous act resulted in justification and life for all people. 19 For just as through the disobedience of the one man the many were made sinners, so also through the obedience of the one man the many will be made righteous.
2 Corinthians 5:21 NIV
21 God made him who had no sin to be sin[a] for us, so that in him we might become the righteousness of God.
The apostle John taught us to admit our sins and confess them to God.  He will then forgive and continually cleanse us from all unrighteousness.
1 John 1:9 NIV
9 If we confess our sins, he is faithful and just and will forgive us our sins and purify us from all unrighteousness.
A Bible teacher once said, "Righteousness equals Jesus Christ plus nothing."
Jehovah – M'Kaddesh – The Lord who sanctifies
God the Father in the Old Testament and Jesus the Son in the New Testament sanctify us, set us apart for service in the Kingdom of God.
Sanctification means separation of an object or person to the dedication of the Holy.  Leviticus 20:8 (one who severs or separates)
Leviticus 20:8 NIV
8 Keep my decrees and follow them. I am the Lord, who makes you holy.
The indwelling Holy Spirit is our teacher and guide to leading a holy, separated life according to the principles of God's kingdom.  If we will listen and obey the promptings of the Holy Spirit, we will fulfill God's plan, and live spiritually and morally pure. We can be free from sin's dominion in our lives.
John 14:26 NIV
26 But the Advocate, the Holy Spirit, whom the Father will send in my name, will teach you all things and will remind you of everything I have said to you.
The Holy Spirit is promised to all who repent and are baptized.
Acts 2:38-39 NIV
38 Peter replied, "Repent and be baptized, every one of you, in the name of Jesus Christ for the forgiveness of your sins. And you will receive the gift of the Holy Spirit. 39 The promise is for you and your children and for all who are far off—for all whom the Lord our God will call."
1 Corinthians 1:30 NIV
30 It is because of him that you are in Christ Jesus, who has become for us wisdom from God—that is, our righteousness, holiness and redemption.
Suggested Prayer:  Thank God for being your Jehovah-Tsidkenu, your righteousness, and your Jehovah-M'Kaddesh, your sanctifier. Give Him praise that you are both forgiven and that the power of sin is broken off your life by the blood of Jesus. Thank Him for the gift of righteousness. Thank God for setting you apart for His Kingdom. Thank Holy Spirit for talking to you, guiding you, and encouraging you to live a holy life so that you always hallow, bring glory to the name of your God, your King.