By making this request a part of the prayer, Jesus confirmed the concern Father God has always had for those who believe in and follow Him. Making this a "daily" request lets us know God wants our relationship with Him to be one of intimacy and continuing interaction. Our need for food is a daily need and Jesus is telling us that God wants to be the one who meets that need. This is not a God who is far away in some lofty heavenly space, He wants to be involved at a personal, life sustaining level with His children, His kingdom citizens. He wants to be Jehovah-jireh for all in His Kingdom. Thus, the request is for daily bread for "us" rather than for "me."
Throughout the Bible, God showed His interest in the well-being of His people. The Garden of Eden was a place of plenty with close fellowship with God. Abraham was blessed to be a blessing. He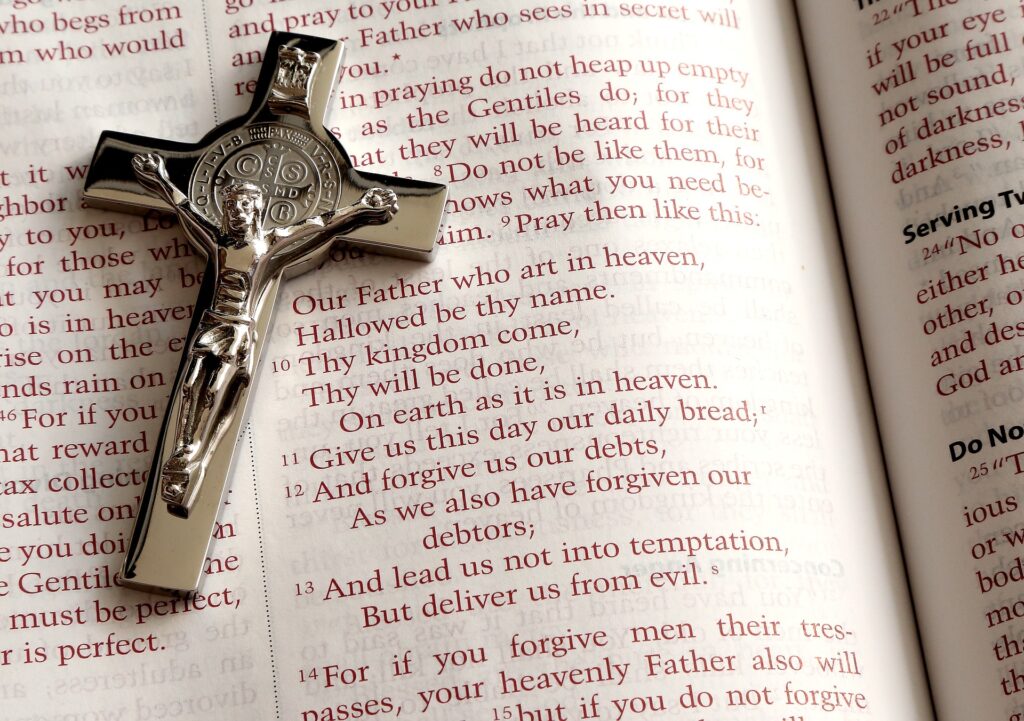 acquired flocks, herds, silver, gold, camels, donkeys, and male and female servants. (Genesis 12:1-3) King David amassed great sums of wealth which he used to build the temple of God. (I Chronicles 22:14, 29:2-3) His son, Solomon, was called the richest man on earth. (II Chronicles 9:22)
During the years of traveling through the desert from Egypt to the Promised Land, God caused manna to fall on the ground every morning so the children of Israel could gather it and be fed. (Genesis 16:14-15) The amount they gathered was to be for one day. In this way, they realized every day that God was providing the food they needed. They had to rely on Him for their "daily bread."
In the Old Testament Covenant, the children of Israel were promised blessings in every area of their lives when they were obedient to follow Gods laws. Deuteronomy 7:12-15 and chapter 28:1-14 describe all the ways they would be blessed. In Malachi 3:10-12, God instructed the people of Israel to give tithes and offerings, and then they would be blessed for all nations to see.
Malachi 3:10-12 NIV
10 Bring the whole tithe into the storehouse, that there may be food in my house. Test me in this," says the Lord Almighty, "and see if I will not throw open the floodgates of heaven and pour out so much blessing that there will not be room enough to store it. 11 I will prevent pests from devouring your crops, and the vines in your fields will not drop their fruit before it is ripe," says the Lord Almighty. 12 "Then all the nations will call you blessed, for yours will be a delightful land," says the Lord Almighty.
The Principle of Giving and Receiving, Sowing and Reaping
The principles of sowing and reaping, seedtime, and harvest, originated in the Garden of Eden when God made everything with a seed in it to provide for the next generation or crop. (Genesis 1:11)
Genesis 1:11 NIV
11 Then God said, "Let the land produce vegetation: seed-bearing plants and trees on the land that bear fruit with seed in it, according to their various kinds." And it was so.
Jesus taught the kingdom principle concerning giving and receiving. This principle is really quite simple, particularly if you have some understanding of planting and harvesting crops. If you sow a few seeds in your garden or field, you will have a small crop to collect at harvest time. If you plant many seeds, your harvest will be much greater. A friend of ours who is a farmer told us that one corn seed can product 700-800 kernels of corn at harvest. God designed multiplication into His earthly kingdom.
Luke 6:38 NIV
38 Give, and it will be given to you. A good measure, pressed down, shaken together and running over, will be poured into your lap. For with the measure you use, it will be measured to you."
Jesus assured the disciples that the earthly things they had given up to follow Him were not lost but would be repaid a hundred times as much.
Mark 10:29-30 NIV
29 "Truly I tell you," Jesus replied, "no one who has left home or brothers or sisters or mother or father or children or fields for me and the gospel 30 will fail to receive a hundred times as much in this present age: homes, brothers, sisters, mothers, children and fields—along with persecutions—and in the age to come eternal life.
The Apostle Paul Taught about Provision
The Apostle Paul, who wrote about two-thirds of the New Testament, assured the believers at Philippi, that their needs would be met. Through the years, these believers had been faithful to give financial assistance to him, and because of that he made a profound promise to them.
Philippians 4:15-17 NIV
15 Moreover, as you Philippians know, in the early days of your acquaintance with the gospel, when I set out from Macedonia, not one church shared with me in the matter of giving and receiving, except you only; 16 for even when I was in Thessalonica, you sent me aid more than once when I was in need. 17 Not that I desire your gifts; what I desire is that more be credited to your account.
Philippians 4:19 NIV
19 And my God will meet all your needs according to the riches of his glory in Christ Jesus.
In his letter to the Corinthians, Paul taught the fundamentals of how to give, the promised reward of giving, and the purpose of overflow.
2 Corinthians 9:6-11 NIV
6 Remember this: Whoever sows sparingly will also reap sparingly, and whoever sows generously will also reap generously. 7 Each of you should give what you have decided in your heart to give, not reluctantly or under compulsion, for God loves a cheerful giver. 8 And God is able to bless you abundantly, so that in all things at all times, having all that you need, you will abound in every good work. 9 As it is written:
"They have freely scattered their gifts to the poor;
their righteousness endures forever."
10 Now he who supplies seed to the sower and bread for food will also supply and increase your store of seed and will enlarge the harvest of your righteousness. 11 You will be enriched in every way so that you can be generous on every occasion, and through us your generosity will result in thanksgiving to God.
Through the grace of God, His ability on our inability or as some say, His unmerited favor, we are blessed to meet the needs of others. He multiplies what we give so we have abundance to give to every good work. This is the way the citizens of the Kingdom of God are cared for and how they are able to meet the needs of others.
Let the Word of God be the foundation of what you believe about God's will to bring increase to your life, to meet all your needs as you give to those less fortunate. Set you priorities on His Kingdom, following His ways of doing things. Trust Him to meet all your needs in abundant overflow.
Matthew 6:33 NIV
33 But seek first his kingdom and his righteousness, and all these things will be given to you as well.
Proverbs 10:22 NIV
22 The blessing of the Lord brings wealth,
without painful toil for it.
Proverbs 11:24-25 NIV
24 One person gives freely, yet gains even more;
another withholds unduly, but comes to poverty.
25 A generous person will prosper;
whoever refreshes others will be refreshed.
Proverbs 3:9-10 NIV
9 Honor the Lord with your wealth,
with the firstfruits of all your crops;
10 then your barns will be filled to overflowing,
and your vats will brim over with new wine.
Proverbs 28:27 NIV
27 Those who give to the poor will lack nothing,
but those who close their eyes to them receive many curses.
Hebrews 11:6 NIV
6 And without faith it is impossible to please God, because anyone who comes to him must believe that he exists and that he rewards those who earnestly seek him.
Suggested Prayer:  Ask God specifically for the things you need materially, spiritually, and physically. Ask for the wisdom you need to make wise decisions about your finances and other decisions you have to make. Thank Him for the promises in His Word about sowing and reaping. Ask Him to help you develop a generous heart that can give cheerfully. Pray He will open your eyes to those who might be in need of your help. Thank Him for the blessings He has given you.