Forgive us our Trespasses, Part 2
Establishing Peaceful Relationships
Forgiveness is vital in maintaining peaceful personal relationships. Also, our awareness of our offenses to God must be maintained at a high level. The first, second, and third greatest commandments all involve relationships, first with God, then others, and then with yourself.
Mark 12:30-31 NIV
30 Love the Lord your God with all your heart and with all your soul and with all your mind and with all your strength.'[a] 31 The second is this: 'Love your neighbor as yourself.'[b] There is no commandment greater than these."
Satan tries to get us into sin by separating us on three levels which are represented in these commandments. He tempts us to sin which separates us from God. He causes strife and anger between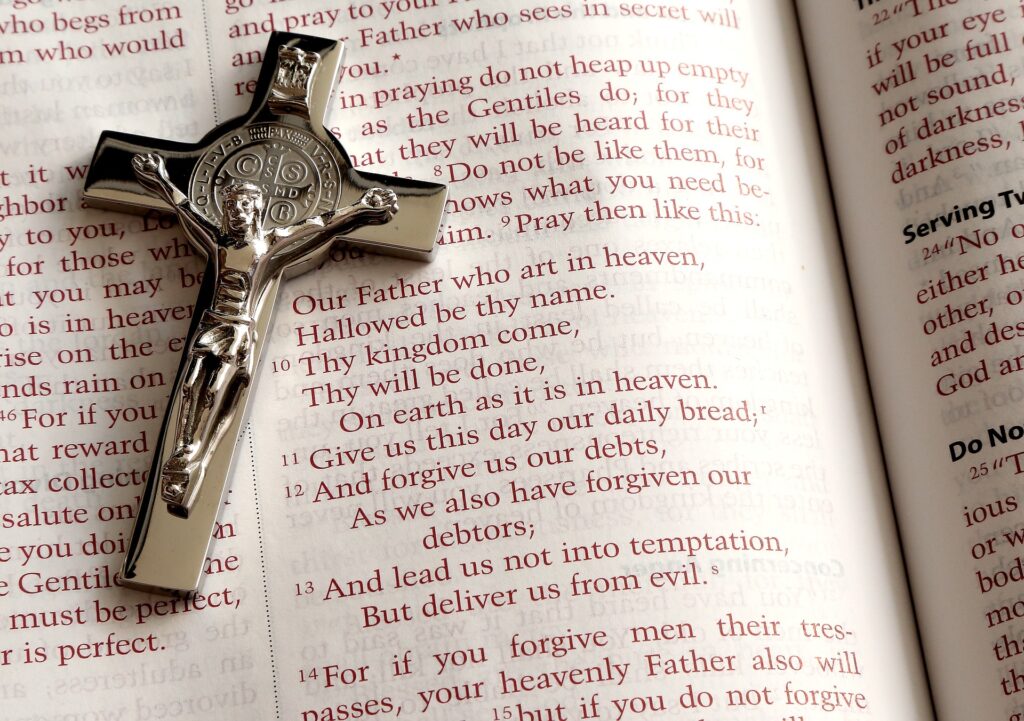 us and others, and we can fall into self-hatred, self-rejection, or unforgiveness of ourselves because of our past mistakes.
The temptation to hold a grudge, not forgive, is "Satan bait." It is like putting a nice, fat worm on a fishing hook trying to get the fish to bite.  Satan "baits" us into believing it is good for us to not forgive when, in fact, we are only hurting ourselves. Unforgiveness puts us into rebellion, not obeying God's commandments. It is wise to be aware of Satan's devices when we experience the temptation to not forgive.
John 10:10 NIV
10 The thief comes only to steal and kill and destroy; I have come that they may have life, and have it to the full.
1 Peter 5:8 NIV
8 Be alert and of sober mind. Your enemy the devil prowls around like a roaring lion looking for someone to devour.
Jesus Taught about Forgiveness
At the end of the prayer outline, Jesus taught the disciples the importance of forgiving others. He was saying, your forgiveness depends on your obedience to the principle of giving what you have received. We have been given the opportunity to receive forgiveness because of His sacrifice, so we are to forgive others.
Matthew 6:14-15 NIV
14 For if you forgive other people when they sin against you, your heavenly Father will also forgive you. 15 But if you do not forgive others their sins, your Father will not forgive your sins.
He also connected forgiving others to the believer's authority over difficulties in their lives in Mark 11:23-26.  Taking authority, believing you receive, and forgiving others are all a part of experiencing victories in your life.
Mark 11:23-24 NIV
23 "Truly[a] I tell you, if anyone says to this mountain, 'Go, throw yourself into the sea,' and does not doubt in their heart but believes that what they say will happen, it will be done for them. 24 Therefore I tell you, whatever you ask for in prayer, believe that you have received it, and it will be yours.
Mark 11:25-26 NIV
25 And when you stand praying, if you hold anything against anyone, forgive them, so that your Father in heaven may forgive you your sins." [26] [a]
These statements place an extremely high value on our decision to forgive offenses. To forgive is a choice, an act of our free will. It does not come naturally and often takes concentrated spiritual strength and determination to do it.
Forgiving others is often very difficult without the help of the Holy Spirit.  Jesus does not ask or expect us to do anything that is not possible.  The Holy Spirit was sent to be our Helper. We can ask the Holy Spirit to empower us to get passed our anger and hurt feelings and come to a place of obedience to God's commands.
We must realize there is no offense that is worth separating us from fellowship with God and the blessings He has promised to those who love and obey Him. I, personally, want all the good things God has prepared for me and I do not want my own disobedience, my own sin, to stand in the way of receiving any of His blessings because I do not forgive someone.
It has been said that to not forgive is like taking poison and expecting someone else to die. Sad but true.
To understand the need to forgive, ask yourself if you feel a dark cloud over you when you think of certain people.
Suggested Prayer: Father, I understand the necessity to forgive, _____.  (Insert the name of the one(s) who has offended you.) They did hurt me badly. I choose to be obedient to your command to forgive them. I choose to release this offense and trust you to heal my feelings. In the name of Jesus, I release _____ and the hurt I have felt.