Faith
Ed Welch helps us understand the pain of depression: "It is technically called depression, but it can't be captured by a word. You feel numb, yet your head hurts; empty, yet inside there are screams; fatigue, yet fears abound. Things that were once pleasures now barely hold your attention. Your brain feels like it is in a fog. You feel weighted down…But every day is the same. There is no rhythm of rising anticipation, satisfaction, the rest. Each day brings a dreadful monotony, and you fear that tomorrow will be the same as today. The flatness of life feels like it is killing you." (Depression: The Way Up When You Are Down, 2000, Pg. 1).
SOURCES OF DEPRESSION
Ed Welch explains some of the possible underlying medical conditions that can provoke depression: "First, as you probably know, there are several causes of depression. It can be related to medical problems like Parkinson's disease, multiple sclerosis, lupus, and hepatitis. Another frequent physical cause is the side effects of prescription medication, particularly blood pressure and heart medication., antibacterial drugs, and psychiatric drugs" (Welch, 2000, pg. 3). This reminds us of the need for a medical evaluation for those experiencing signs of depression.
THE SPIRITUAL SIDE
We want to look at the spiritual side of depression and how the knowledge of God and His Word can bring direction and relief. The Bible tells us, "So now faith, hope, and love abide, these three; but the greatest of these is love" (1 Corinthians 13:13 ESV).  I would like to use these three eternal words in three articles to help us bring focus on the alleviation of suffering as we address this darkness of depression that grips our souls. First, we will look at the power of faith to combat depression.
FAITH
We are seeking a Scriptural solution to the weight that is pressing down on a life lived in a state of depression. When we talk of the Scriptures we speak of faith. The Bible tells us, "So faith comes from hearing, and hearing through the word of Christ" (Romans 10:17). The Word of God calls us to live by faith and not by sight. For those burdened with despair, faith needs to begin with a simple look upwards to Him who sits on heaven's throne.
Faith becomes central as we face the burdens and cares of life. The Apostle Peter tells us, "casting all your anxieties on him, because he cares for you" (1 Peter 5:7). This is a vital truth for all of us who are followers of Christ as we live in this fallen world. It is a critical truth for those who face the scourge of depression. Our eyes must always be turned upward to a faithful God who is in heaven. We must continually remind ourselves that we have a Heavenly Father who is always looking down on us in loving concern. He is always only one small prayer away. Faith begins with one small prayer.
LIVING IN FAITH
We must also remember that we have an advocate with the Father, Jesus Christ the Righteous One, who is in Heaven pleading our case.  He is in heaven in continuous prayer on our behalf (Hebrew 7:25). These are truths on which we must keep our minds focused. The Bible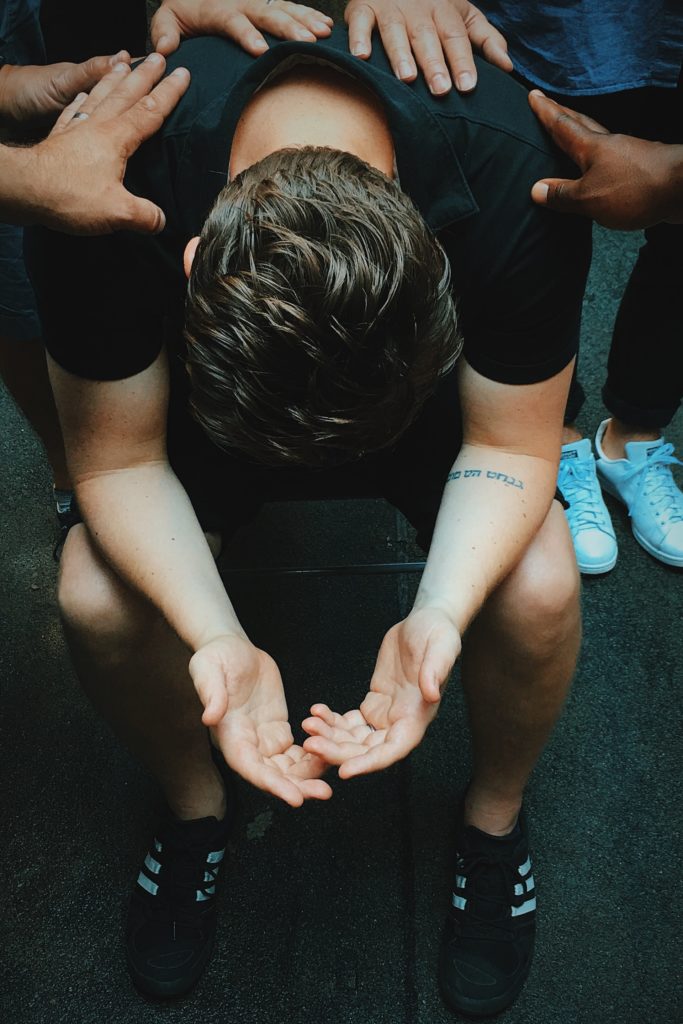 promises that this will lead to peace. "You keep him in perfect peace whose mind is stayed on you, because he trusts in you" (Isaiah 26:3).  We trust Him because He is faithful.
When suffering under the burden of depression we need other followers of Christ, the community of faith, to stand at our side to constantly remind us of all that we have in Christ. We need the powerful promises of God repeated to us. We need fellow intercessors lifting us up before the throne of grace. We need someone to lay their loving hands upon us and believe for the lifting of burdens and for renewed inner strength. We need a listening ear and a caring heart. Here we are describing the joining together of faith of two or more followers of Christ as they do spiritual battle together (Matthew 18:19).
The Bible gives us many examples of people who lived by faith (Hebrews 11). This gives us living descriptions of how the exercise of faith is essential to daily living in this fallen world. We learn that without faith it is impossible to please God (Hebrew 11:6). We also learn that faith has to do with endurance (James 1:2-4). We must keep our focus on the things above where God's throne is and not let our minds get trapped in the negative things of this fallen world. We need to raise our hands, our minds, and our hearts upwards to our Heavenly Father who awaits us.
THE REAL ENEMY
We must remember who is our real enemy and know that we are not fighting against flesh and blood but against the enemy of our souls. It is important to note that the struggle of negative thoughts that lead to depression does not necessarily begin from the Devil himself. But when he perceives that we are struggling with oppressive thoughts, he comes to add on to those thoughts and to reinforce all that is negative into our minds.
Therefore, we must do as Paul has encouraged us all to do. We must put on the whole armor of God to fight the on-going spiritual battle (Ephesians 6:10-18). We cannot blame the Devil for all of our sufferings but at the same time, we must be wise and know our enemies' schemes and tactics. We must be aware that he is always looking for weakness and he is always ready to pile on when we have stumbled and fallen. He looks for discouragement to accuse us.
OUR DEFENSE
10 Finally, be strong in the Lord and in the strength of his might. 11 Put on the whole armor of God, that you may be able to stand against the schemes of the devil. 12 For we do not wrestle against flesh and blood, but against the rulers, against the authorities, against the cosmic powers over this present darkness, against the spiritual forces of evil in the heavenly places. 13 Therefore take up the whole armor of God, that you may be able to withstand in the evil day, and having done all, to stand firm. 14 Stand therefore, having fastened on the belt of truth, and having put on the breastplate of righteousness,15 and, as shoes for your feet, having put on the readiness given by the gospel of peace. 16 In all circumstances take up the shield of faith, with which you can extinguish all the flaming darts of the evil one; 17 and take the helmet of salvation, and the sword of the Spirit, which is the word of God, 18 praying at all times in the Spirit, with all prayer and supplication"
(Ephesians 6:10-18).
It is the whole armor of God that will make us prepared to stand firm in the evil day when Satan tries to crush us under the heavy load of his negative thoughts and accusations. We must be alert and have on our full body armor to "extinguish all the flaming darts of the evil one" (Ephesians 6:16).
We must walk by faith and not by sight. We must stand in the righteousness of Christ. The peace, which comes from the gospel, must be held near at our disposal at all times. We must live in the grace of our Lord Jesus Christ (2 Corinthians 8:9). The Word of God must invade our minds and control our thoughts. Salvation, which has come to us freely through the death of God's Son, must cover our heads—our minds and our thoughts, like a helmet. We must look moment by moment to the cross of Christ where flows to us the unending grace and love of God.
We must keep before us vital faith scriptures. We need to memorize them and repeat them to ourselves throughout the day. Our minds will be renewed. The truth will slowly but surely enter our minds and our hearts and progressively set us free. We must claim the promise, "So if the Son sets you free, you will be free indeed" (John 8:36).
Next Lesson