This past week, I read about a minor league baseball team manager who was disgusted with his center fielder's performance. During practice, he told him to sit out and watch. The manager then grabbed his glove and walked out to center field.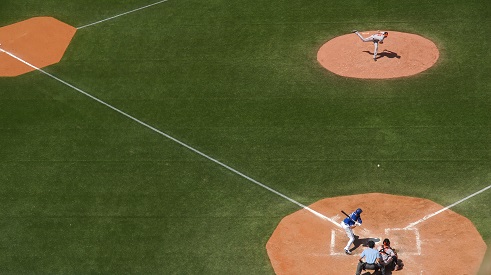 The first ball that came to him took a bad hop and hit the manager in the mouth. The next one was a high fly ball, which he lost in the glare of the sun until it bounced off his forehead. The third was a hard line drive that he charged after with an outstretched arm. Unfortunately he misjudged it, and the ball hit his forearm instead of the glove.
Furious, he stormed back to the dugout, grabbed the center fielder by the uniform and shouted, "You've got center field so messed up that even I can't do a thing with it!"
Not everything is as easy as it looks. What would it take to give those around you a little more credit than usual?
We've all been there, haven't we? We become critical of another's performance, thinking we could do better, and then come to the sometimes painful realization that what they do is not as easy or simple as we thought it to be.
How might you acknowledge, value and admire others' contributions to your life?
1 Thessalonians 5:13b-15 (MSG) …Get along among yourselves, each of you doing your part. 14 Our counsel is that you warn the freeloaders to get a move on. Gently encourage the stragglers, and reach out for the exhausted, pulling them to their feet. Be patient with each person, attentive to individual needs. 15 And be careful that when you get on each other's nerves you don't snap at each other. Look for the best in each other, and always do your best to bring it out.