Sometimes young people cannot figure out why their parents or other adults do what they do or why they act the way they act.
Young people just know that the decisions of these adults really affect their lives. Many times adults say or do things against young people that they shouldn't. Parents argue, fuss, don't get along or just make the young people miserable. Most of the time, such a family does not have the Lord in their lives.
Family Conflict
I know this guy who grew up in a house where no one got along. His parents divorced. Everyone was miserable. The young man knew he couldn't do anything about it. Through the years, this young man always knew that something was missing; he had a hole in his life. The hole needed filled.
When he was 19 he went into the Navy looking for someone or something to fill that void in his life. He traveled all over the world and saw many things. He also experienced a lot of things he should have stayed away from and not experienced. All in all, the young man was searching.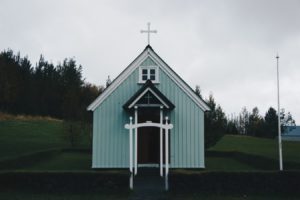 After leaving the Navy, the young man decided to attend a small college in Fort Worth, Texas. He had always loved teaching children and thought attending this college would be a good place to start.
A short time later he met a young lady whom he thought was something special.
She was pretty, smart and easy to get along with. There was just one catch: She wouldn't go out with him on a regular date because she didn't really know him.
The young lady grew up in a church. All his life, the young man had heard nothing good about churches. However, he did know that he would have to make sacrifices if he chose that lifestyle. He begged and pleaded with the girl to go out with him. Finally one day she told him, "I will go out with you, but you have to come to a revival at my church." He told her he would think about it.
Church Revival
That night the young man wrestled with the thought of going to church with her. The next day he gave in and told her he would go that night with her. And as they say, "The rest is history!" The preacher had not preached very long when the young man felt the pull of the Holy Spirit. A couple of nights later the young man gave his life to the Lord. God changed him forever. He not only had that beautiful young lady in his life, but also the Lord had filled that huge hole in his life. The young man has never been the same since.
Without the Lord you will always have a hole in your life. We cannot make it without Him in our lives. The Holy Spirit is our comforter and will lead us through anything we go through, big or little. This doesn't mean we won't face problems; it means that we have a power much greater than us to lead us through the problems, a power that can pick us up when we fall.
You see, I am the young man who traveled all over the world looking for someone or something. I found what I was looking for right here in my hometown, both the Lord and a beautiful wife! The Lord is always there for us.