"Hello? Beatty residence."
"I'm trying to reach a Mary Beatty."
"This is Mary."
"My name is Larry Muffer. (Names have been changed to protect the victims.) I bought an old van from a guy here in town and have been fixing it up. It has your name on the title."
"Old van? My name . . . title . . . there must be some mistake! Old Blue is dead and buried!" I gasped about an octave too high.
Old Blue
Larry chuckled. "I'm afraid not. The old van is alive and humming. Lots of life in it yet. It's a honey! Engine sounds real good. Hard to start sometimes. The interior is remarkably nice for its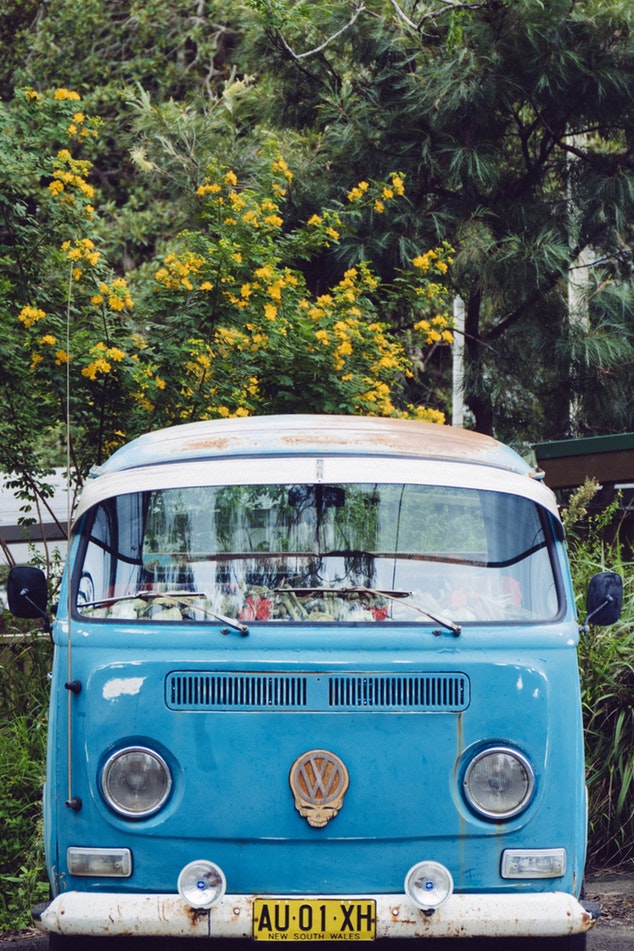 age."
"Nice?" For a moment I was struck speechless, remembering how Ken had used thumbtacks to hold the sagging ceiling fabric in place! And now for two years I had been certain Old Blue had gone to a better place and was laid to rest in the junkyard cemetery.
Oh, I can just see Ken now, looking down from his post in heaven, clapping and shrieking , " I tried to tell her, sir. I tried to tell her! "
"Hello . . . hello! Mrs. Beatty, are you there? I've wondered . . . why did you get rid of it?"
"My husband was very ill and the old van hadn't left the driveway for seven years. I needed access to the garage."
"Oh, so it was blocking the door."
"And I assure you I don't want it back, so how can I help you?"
"A man in Pennsylvania restores old vans. He especially liked this one because he'd never seen a van like this with the extra doors on each side."
"I can give you a brief history of that van. My husband's parents purchased it when it was new. They owned an antiques business and hauled a ton of boxes to and from shows. Ken performed major surgery on the van's body and installed the two doors so it would be easier to load and unload the heavy boxes. Then he added the six sets of glass jalousie windows, and I sewed the pull-back curtains for privacy."
"Hmmm … interesting. Well, this fellow is going to buy Old Blue. He said he was prepared to bid $1500 on eBay, but the bidding stopped short of $900 …"
This is incredible! A bill of sale for a piece of junk I had hauled away for free.
"… And he says Pennsylvania laws are different, so I may need to get the original owner's signature on the bill of sale. Would you mind? I'll contact you in a few days when I know more."
"Good-bye."
Disbelief
With a deep sigh I slumped into the nearest chair, grinning from ear to ear in disbelief.
Well, if this isn't another "Rest of the Story"! Hmmm … since I haven't been able to locate a photograph of Old Blue anywhere maybe I can take one before it leaves town–first thing next week.
But next week it rained every day! Gone was my last hope of ever having a picture of Old Blue.
Then one day someone signed my website guestbook …
Where are you from?
"We're from Lancaster, PA. "
How did you find this website?
"We are the new owners of your Old Blue!"
Please enter your comments.
"I have enjoyed your website. You are a very talented lady and I'm happy that God has blessed you in the way He has. I know your burdens and pray the Lord stays near, which I know He will. It never ceases to amaze me that something so small as a transaction on the Internet can touch people's hearts. We'll keep in touch."
We have exchanged email a few times and I now have the wonderful images you see here and in my article "Old Blue"–the same photos shown on eBay. Needless to say, viewing that beloved "heap of sentiment" has brought back many bittersweet memories of times past.
Suddenly, a clap of thunder startles me from my musing. A chuckle of delight bubbles up and bounces off the rain-drenched window, as I peer through the dark clouds beyond. "Uh … Okay, I hear your thundering applause, Ken. Long live Old Blue!"