It is fitting that as a Major League Baseball pitcher John Smoltz must climb a hill to reach his work station and dig in when he gets there.
As a three-time All-Star and a 1996 Cy Young Award winner (given to the best pitchers in the National and American Leagues), he is accustomed to such elevated places. As a Christian role model, the Atlanta Braves ace also realizes no pitching mound is high enough to actually reach the uncomfortable pedestal on which he is placed by fans and media. To live peacefully in the expanse, he must rely upon an even higher Power.
"Knowing what I know now, I can't imagine growing up in this world without having faith in Jesus Christ,"
Smoltz says in an interview at Atlanta's Turner Field.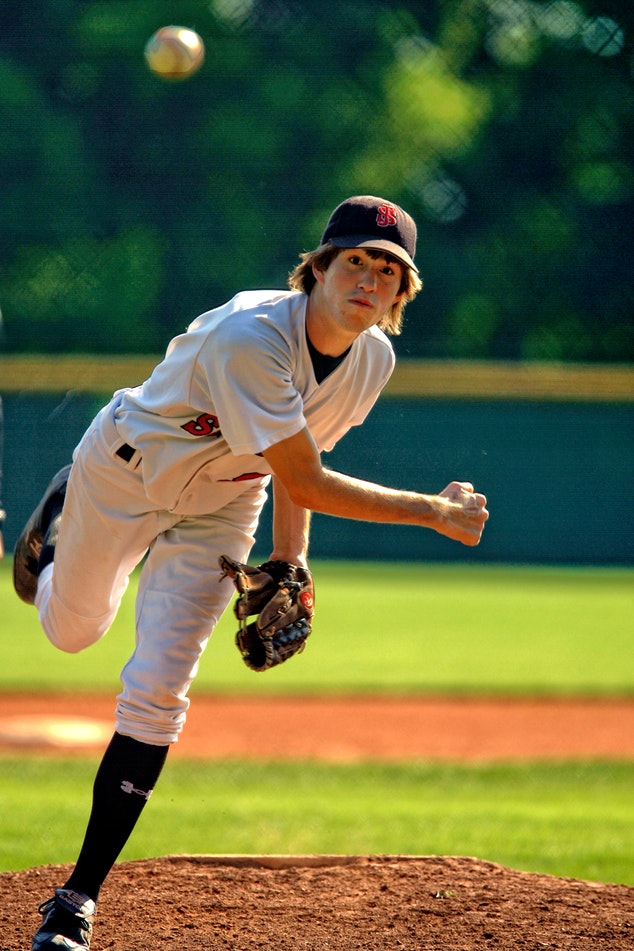 "That alone makes all the other stuff irrelevant . . . The pressures in this world are just incredible. And to know [Jesus] is the greatest peace of mind anyone could have."
Smoltz's peace calms the concerns of two elbow surgeries since 1994. It supersedes the challenges of being a member of America's most popular baseball team and one of the best pitching staffs in the game's history. It is the assurance of Christ that has transformed Smoltz's career and emboldened him to become a leader among Christian athletes whose inherent responsibilities include the leadership of youth.
Smoltz is the father of three children (Andrew, six, Rachel, four, and Carly, six months) and conducts baseball camps for kids every summer. He also addresses churches and other groups, and his message to parents packs more power than one of his ninety-five miles-per-hour fastballs.
Remember the unrealistic pedestal? Smoltz starts his instruction there.
"The easy way out is to have someone else raise your kids. In other words, the kids all have role models . . . and the easy way out is to say, 'Be like this person,' and, 'Be like that person,' and the bottom line is the Bible tells you that people are going to fail you," Smoltz says. "I just wish parents took more responsibility in letting themselves be the person [admired]. I grew up admiring my dad and what he did. In society there has been so much put on the power and wealth. People who have a lot of money and are athletes, those are the ones who are the so-called influential people, and those are the ones who are the coolest. It's not cool to be a house mom.
"So parents, I wish they'd quit relying on teachers, athletes, and whomever to raise their children or to be the role models, because it has to start in the home. It has to," he says. "And if they invested their time in the kid, they're going to see a better result, a better product."
Smoltz knows about producing results. Though he was raised in a Christian home, he grappled with the pressures of constant expectations through the first six years of his Major League career. His "stuff," slang for the quality of pitch repertoire, has always been considered among baseball's best. Yet Smoltz never had won more than fifteen games in a season. It wasn't until he fully recovered from his first elbow surgery and surrendered his frustrations to Christ that Smoltz's career flourished.
He immediately opened 1996 with a loss and then fourteen straight victories and finished with a 24-8 record and 276 strikeouts. All are Atlanta team records. That's when he won the Cy Young Award as top pitcher in the National League and ignored the world's dictation.
"I felt like I was responsible for everything that happened. I was responsible for my actions, people's problems, why I couldn't make people happy and couldn't make myself happy," Smoltz says. "Now I understand I'm no longer in control of that. I understand that whatever I do, I do for the glory of Him and not for the glory of people, and that's the single thing that has helped me make that next level of that Christian walk."
Such wisdom is rare for a thirty-year-old and scarce among professional athletes. It is one reason Smoltz's opinions on parenting and youth carry so much weight. Another reason is the heaviest weight Smoltz now carries is his Bible. He rears his children upon a scriptural foundation. He understands you can no more throw effective curveballs without first establishing consistent fastballs than you can raise godly children without first establishing them in God's Word.
"The problems are right there in the Bible," Smoltz says.
"It speaks of the things you shouldn't do to your children and the things you should do to your children."
Smoltz stresses three priorities to parents and for raising his own children. There is no way to raise the perfect child, and many parents' earnest efforts at raising godly children have met frustration. But Smoltz knows raising children according to biblical principles is better than any other method. With God's help the principles will take root at some point. (Proverbs 22:6)
Let Smoltz help you strike out the many obstacles:
Strike: Discipline and a commanding authority in a child's life are essential.
"I am a person big on respect. You've got [to teach kids] to have respect," Smoltz says. "If you don't respect people, you're never going to respond to authority, never going to be able to work for anybody, and that's basically where we're at in our society. There's no respect, so therefore there is no authority. And it's: 'What can you do for me?' and not, 'What can I do for you?' That whole mentality has allowed society to be where it is today."
Strike: Read God's Word to learn His principles in raising children.
"Being a Christian is constant work. You've got to be in tune with that Book, and if you're not, you're going to be sideswept. You're not going to lose your salvation, but you're going to be sideswept from time to time," Smoltz says. "The favorite Scripture for me has been John 15:5: 'I am the Vine, you are the branches. If a man remains in Me as I in him, he'll bear much fruit, and apart from Me he'll bear nothing.' It meant so much–that was my whole verse going through '96. People will say, 'Oh, that's not the reason' I went 24-8, but there is a lot to it."
Strike: Trust Jesus Christ not only as your Savior but as the LORD over your life. Child-rearing then will naturally be more fruitful.
"Raising kids–if you have that in perspective and you're doing your very best, everything else is going to happen for a reason," Smoltz says. "I may not be able to get my kids to do exactly what I want, but if I teach them in a manner that's worthy of the Bible and instructs them in a Christian manner, I think they're going to be all right."
They will be all right because then they will follow Smoltz's own hero. Smoltz will tell you it was on Calvary that He, too, did His greatest work at the top of a hill.