I once had a friend who was a terrorist with a telephone. Don't get me wrong, he didn't bomb me or threaten me but he sure impacted the quality of my life. Stan had fought a long battle with alcoholism and at that time was free and coming to our church in Luxembourg. I've found , though, that when you take alcohol away from the alcoholic the underlying problems often bubble to the surface.
My talkative friend used to call two or three times a day, jabbering like a Boeing 747 roaring down the runway for takeoff. And all this was in French. I would inject a 'oui' from time to time, but most of the time I gritted my teeth and bore it, until I finally had to limit him to ten minutes a call. The cumulative effect of so many high-energy calls began to get to me. He wasn't the only caller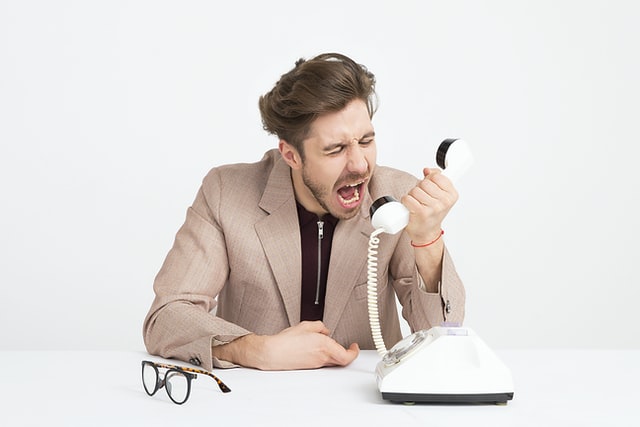 either. Add to Stan a strange woman who came to the church at the time. I think her mother must have rocked her too close to the wall because something didn't work right in her head. Her calls wore me out. Then add Dan to the mix. Ah, Dan-the sound of his voice could tilt me toward depression, even on a happy morning while the birds sang. It reminds me of what another pastor observed about a lady in his church, 'I always know it's her calling because of the way the phone whines when it rings!' Can you imagine that sometimes I didn't want to answer the phone? 'It's for you, I can tell,' I would inform my wife when the torture device rattled.
Have you ever felt like God refused to answer the phone when you called? God always responds but there are a few things that cause communication problems. If we don't seem to be getting a response or we find ourselves talking ninety to nothing but not doing a lot of good, we need to ask some questions. Why aren't we getting any answers?
Am I really trusting Him?
'But when Peter saw how strong the wind was, he was afraid and started sinking. "Save me, Lord!" he shouted. Right away, Jesus reached out his hand. He helped Peter up and said, "You surely don't have much faith. Why do you doubt?" (Matt. 14:30, 31, CEV. Actually the little faith he had was in the shout for help. And it worked).
Am I asking unwisely, out of God's will?
'Now this is the confidence that we have in Him, that if we ask anything according to His will, He hears us.' (1 John 5:14, KJV).
As that great 'theologian' Garth Brooks wailed in his song, 'Unanswered Prayers,' 'Just the other night at a hometown football game. My wife and I ran into my old high school flame, She was the one that I'd wanted for all times. And each night I'd spend prayin' that God would make her mine. Sometimes I thank God for unanswered prayers. Some of God's greatest gifts are unanswered prayers.
Are there areas of my life where I'm in flagrant disobedience to God?
'If I had been cozy with evil, the Lord would never have listened.' (Psalms 66:18, The Message)
Might God be building something in me as I wait? He's sorting through things in me, or maybe it's me sorting through them. In the fire of trials things spring up that I didn't even dream lived in me. The perseverance that He accomplishes in us as we wait, serves us well even after the trial is gone. Often what He does in you counts for much more than what He achieves for you.
"let us exult and triumph in our troubles and rejoice in our sufferings, knowing that pressure and affliction and hardship produce patient and unswerving endurance. And endurance (fortitude) develops maturity of character (approved faith and tried integrity). And character [of this sort] produces [the habit of] joyful and confident hope of eternal salvation. Such hope never disappoints or deludes or shames us, for God's love has been poured out in our hearts through the Holy Spirit Who has been given to us." (Romans 5:3, Amplified)
I know this thing is God's will but is it God's time to do it? God's time is as important as God's will. When we get ahead of Him in doing what He's called us to do, that can cause nearly as many problems as disobedience.
'But when the time arrived that was set by God the Father, God sent his Son' (Gal. 4:4, The Message).
If God doesn't seem to be answering the phone, we need to consider why.