We must ask God to fill our hearts with His love. We must then ask Him to help us, by His grace, to surrender to His love within us. We pray that the love of God will control us and move us out to love others. Love refocuses our lives on others.
SERVING OTHERS AND NOT OURSELVES
The gospel calls us to leave self-focus and become other-focused as we follow in the footsteps of our Savior. Someone else is struggling in despair and needs our encouragement and prayer. We are lifted by the Lord for this very purpose. We receive comfort from God so that we can give it to someone else. "Blessed be the God and Father of our Lord Jesus Christ, the Father of mercies and God of all comfort, who comforts us in all our affliction, so that we may be able to comfort those who are in any affliction, with the comfort with which we ourselves are comforted by God" (2 Corinthians 1:3-4).
We must reject any cultural restrictions that would keep us from following the Lord in humble service to others. Cultural traditions and attitudes that come to us in many different forms often reinforce selfish desires. No matter what our culture tells us, we must obey the Word of God. There is a selfish sinful side to every human that tells us to put ourselves first and let others worry about their own problems. As His disciples, we must follow the example of the Savior and get our eyes off of ourselves and our own perceived needs and let Jesus live His life of love through us.
Negative thoughts only grow in our minds when we place our own perceived suffering in the center of our concern. Others are also suffering. We must ask the Lord to use us to help lift the blight of someone else. As a result, often our own suffering lightens as we experience the joy of lifting the fallen arms and encourage the weakened souls of other sufferers who are weary of life. Jesus lifts us up so we can then be a channel of His love to lift someone else up.
THE JOY OF THE LORD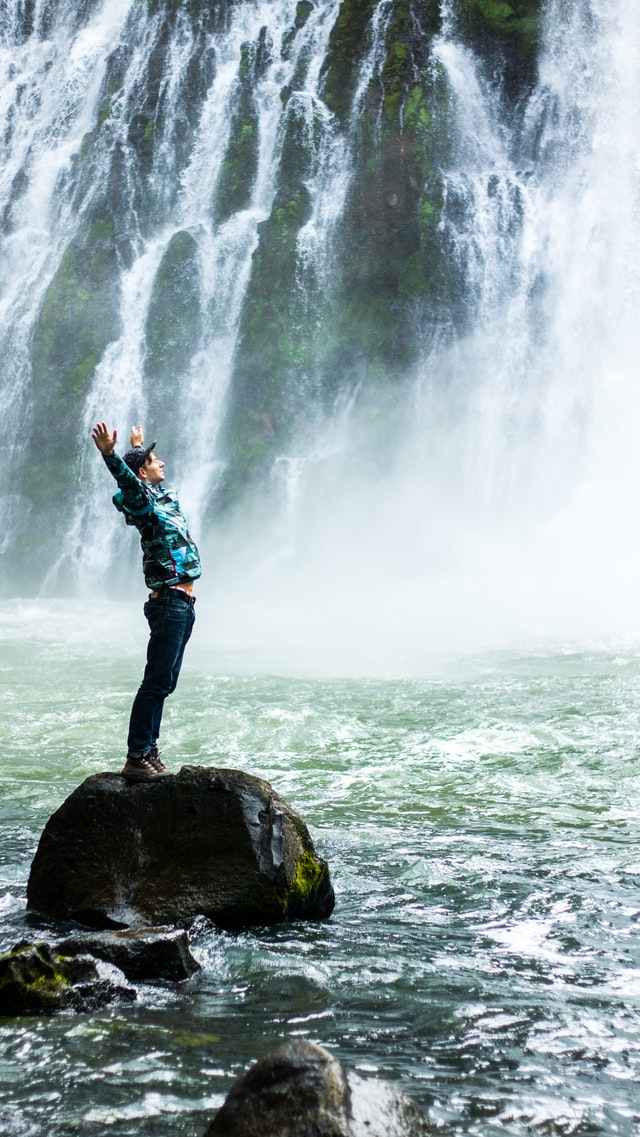 Through the hope we have we rejoice. The Bible says to "Rejoice in the Lord always. I will say it again: Rejoice!" (Philippians 4:4) This is a commandment that God has given us. So, no matter what state of mind we find ourselves in, not matter the degree of our suffering, the Bible tells us to rejoice. God in His powerful grace can move us from despair to rejoicing as He gives us His free gift of joy. This is the fruit of the Holy Spirit. It is a product of the life of the Spirit within us.
This is something much deeper than being happy. This is gazing with our spiritual eyes at the eternal. This is remembering the eternal salvation that was purchased for us through the death and shed blood of the Son of God. This is focusing on the eternal inheritance that is ours in Christ (Romans 8:17).  We rejoice in knowing that because we have been forgiven, we have an eternal home in heaven where we will live with God our Savior forever. We have eternal life. We have passed from death unto life and nothing can separate us from the love of God we have experience in Jesus our Lord (Romans 8:31-39).
Ed Welch writes: Joy is not the opposite of depression. It is deeper than depression. Therefore, you can experience both. Depression is the relentless rain. Joy is the rock. Whether depression is present or not, you can stand on joy (Welch, pg. 140).
The hope we have in the gospel gives us this profound joy that sustains us and lifts us out of hopelessness. Jesus is our hope and He is our joy.
READ MORE
Part 1: Faith – https://journeyonline.org/lifting-the-load-of-depression-part-1-faith/
Part 2: Hope – https://journeyonline.org/lifting-the-load-of-depression-part-2-hope/