Today's Scripture: 1 Samuel 30:6-8
Central Thought: Take strength in the Lord your God, for He is at work for our good.
David was in a bit of a fix. He had pledged himself and his men to a Philistine king in exchange for a safe place to live in Philistine territory. David was playing a dangerous game of deception and intrigue in order to remain in the good graces of this heathen king while taking care to bring no harm to the people of Judah. Now, the Philistine lords were gathering to fight against King Saul and his army. David was sworn to not hurt Saul. So, now what would he do?
Not Alone
Aren't you glad that we are not in this alone? "Not by might nor by power, but by my Spirit, says the Lord of hosts." (Zechariah 4:6) Too often we get so busy doing what must be done that we start to believe that it is all up to us. This can create worry and anxiety. 'What if I make a mistake?" 'What about all of the circumstances that are out of my control?"
We see in this Old Testament passage how God was working behind the scenes in the wonderful way He always does. As David was faithful to do what he could to care for himself and his people, God moved in such a way as to protect David's (a) integrity, by keeping him out of the battle that would end in Saul's death; (b) family, by having David come home in time to save them from the Amalekites; and (c) future, by removing Saul from the picture and making the way for David to become king.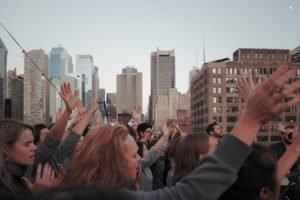 This same God who loved and protected David is, this moment, at work in the hidden circumstances of your life to protect you. It may look dark, and it may look hopeless; but I urge you to pray and worship to strengthen yourself in the Lord your God. As you seek His face, He will surely save you and usher you into the destiny He has prepared for you!
Devotional Prayer: Lord God, mighty Controller of all the circumstances in my life, help me today to do all that I can to walk in obedience to Your Word and bring glory to Your name. Set me free from my circumstances and fill me with the peace that comes from knowing that all of the things outside my control are solidly in Your control.
Today's Bible Reading: 1 Samuel 29:1-31:13; John 11:54-12:19; Psalm 118:1-18; Proverbs 15:24-26